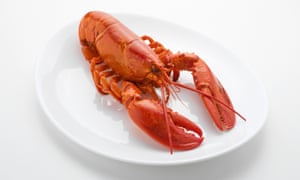 Michele Hanson
Iwas in the local fish shop buying my dinner when another customer in front held up two live lobsters that he had just bought. He needed some advice about what to do with them. "I'm going to boil one today," said he, "but how long can I keep the other before I boil it? Will it last two days?"
There were the poor lobsters, held aloft, waving their arms about in a frenzy. Did they know what awaited them? Horrible. I suddenly remembered those Buddhist monks who saved hundreds of lobsters in July – bought them, carefully untied their claws and set them free again. They probably knew that lobsters "have a long childhood and awkward adolescence" and feel pain. So that cheered me up a bit – not all humans are greedy, heartless bastards. But it means no more lobsters for me, and perhaps I should cut out fish, too, and be a proper vegetarian. Or even a vegan, because once you start on this road, there's no way back.
And it's difficult, because I was brought up eating meat. Lovely tasty stews, roast dinners, bacon for breakfast, and shellfish. My mother cooked it all, in defiance of Jewish dietary laws and her own ferociously kosher mother. But those were more innocent and ignorant times, when we didn't know about how dairy cows suffer, or eat such gigantic chunks of everything; when there was no Twitter, Facebook and endless campaigns against eating, boiling and torturing dogs, pigs and more or less anything that moved, and we just thought animals wandered freely around fields or spacious pens and didn't miss their children, or mind being slaughtered, or feel anything much. And we didn't yet know that the planet was almost totally buggered.
"This is a middle-class activity," says Fielding harshly. "And remember, you live in Islington. People will mock." Who cares? I'm not claiming to be saintly. I have lapses; I eat Olivia's heavenly roast chicken, pretending to myself that I'm just being polite. Daughter's making more effort than me, often turning to tofu. Perhaps the next generation will do better than us, and save the world. If they still have time.