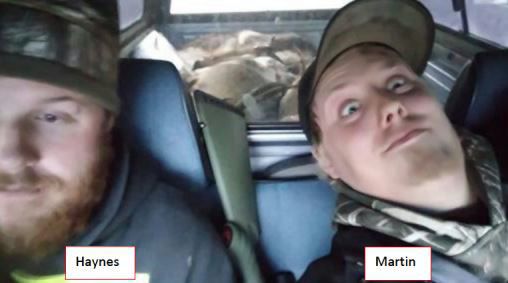 For individuals who apparently got a thrill by stalking and illegally killing wild animals, William J. Haynes and Erik Christian Martin did a poor job of covering their own tracks.
The suspected poachers unwittingly provided law enforcement officers with a huge cache of evidence, allowing Washington Department of Fish and Wildlife investigators to build a massive case against them and five other members of an alleged poaching group.
Based on case reports reviewed by The Daily News, there's little sign the men ever thought about getting caught.
Instead, the 23-year-old Longview residents are suspects in an investigation into the killing of more than 50 animals including deer, elk, bears and bobcats in two different states. Along the way, they left a digital trail of shocking evidence for Fish and Wildlife investigators to follow.
The painstaking task required two Fish and Wildlife officers and a sergeant, who spent a majority of the past winter and early spring diligently retracing the suspects' bloody steps.
Investigators were also assisted by more than 30 officers from multiple agencies, including the Cowlitz County Sheriff's Office.
"We've used a lot of our manpower in this region in Western Washington to accomplish this case," Fish and Wildlife Sergeant Brad Rhoden said in an interview.
Rhoden said he doesn't want intense interest in the case to lead to a negative perception of honest hunters.
"I don't want anybody to view the majority of our hunters in Washington as these types of individuals," he said. "I don't think there's a sportsman out there who would say this is OK."
Haynes is facing 61 separate charges in Skamania County District Court, including 26 charges of first-degree illegal hunting of big game. All of the charges are related to the use of dogs while hunting, which is illegal in Washington without a special permit that's only granted in specific instances. Haynes was previously convicted of second-degree unlawful hunting of big game in Cowlitz County on Oct. 3, 2013. As a result, all of Haynes' big game charges could be considered Class C felonies, which are punishable by up to five years in jail and a $10,000 fine.
Martin, who does not have any previous violations, is facing 28 separate charges for gross misdemeanors.
In addition to Haynes and Martin, three other suspects have been named in the investigation.
They are Joseph Allen Dills, 30, of Longview; Eddy Alvin Dills, 57, of Longview; and Bryan Christopher Tretiak, 31, of Morton. All of the suspects are awaiting preliminary appearance hearings in Skamania County later this month. Two female suspects were named in the case reports but no charges have been filed against them yet.
Dills, who has bear claws and dog paws tattooed on his left arm, pleaded guilty in Wahkiakum County District Court in 2008 to second-degree unlawful hunting of big game and second-degree criminal trespassing. He's now facing 64 separate charges, including four first-degree unlawful big game hunting charges for the illegal use of dogs.
Had Haynes and Martin known that the contents of their phones would result in so many charges, it's possible they may have opted not to document such a staggering number of alleged illegal hunting activities.
A mountain of evidence
Based on case reports, it's not clear if Haynes or Martin thought twice before agreeing to allow two Oregon State police officers to look through their devices on December 3, 2016.
According to reports, the troopers had stopped the men after recognizing Haynes' Toyota pickup as the same vehicle that appeared in several images captured by Oregon Department of Fish and Wildlife game cameras. The motion-activated cameras were set up in response to past illegal big game hunting activity in the Mount Hood National Forest during the months of November and December.
Upon questioning, Haynes and Martin confessed to illegally killing two buck deer and a silver gray squirrel, according to reports. The two men admitted to taking only the heads of the two deer and the entire squirrel back to a house in Longview, leaving the rest of the animals to rot.
At this point, Senior Trooper Craig Gunderson requested that Washington Fish and Wildlife Sergeant Brad Rhoden assist with recovering the illegally transported deer heads.
An initial look through the devices revealed numerous photos of antlered deer skulls, dead bull elk, and — perhaps most disturbing — bear hunting with the use of dogs.
Gunderson seized the phones as evidence and obtained a search warrant to have a forensic analysis performed on the devices.
On Dec. 16, 2016, Rhoden met with Gunderson and several other officers to transfer evidence from the analysis.
The contents of Haynes' phone provided hundreds of photos and videos documenting a pattern of brutal killings on more than 20 separate occasions.
In some cases, bears were still alive as Dills' dogs gnawed on their flesh, Rhoden said.
Martin's phone also held numerous photos and videos of the unlawful harvest of big game.
In addition to incriminating photos, videos and text messages, the evidence included crucial metadata which allowed investigators to pinpoint exactly where the illegal killings occurred using GPS coordinates.
Investigators could not have retraced the suspects' steps if Haynes had not granted his phone's camera permission to access its GPS location data.
"What was most difficult about this case is that we had to pore through so many records," Rhoden said.