[Sadly for the animal's sake, despite the hundreds of thousands of protesters and 'gun-hating Hollywood billionaires' speaking out, almost nothing is ever said about the fact that making sport of hunting and killing our fellow animals is one of the the driving forces behind NRA-types, and guns will never really be out of the hands of killers until we addres that.]…
"Gun-hating billionaires and Hollywood elites are manipulating and exploiting children," the gun group said of the Saturday march.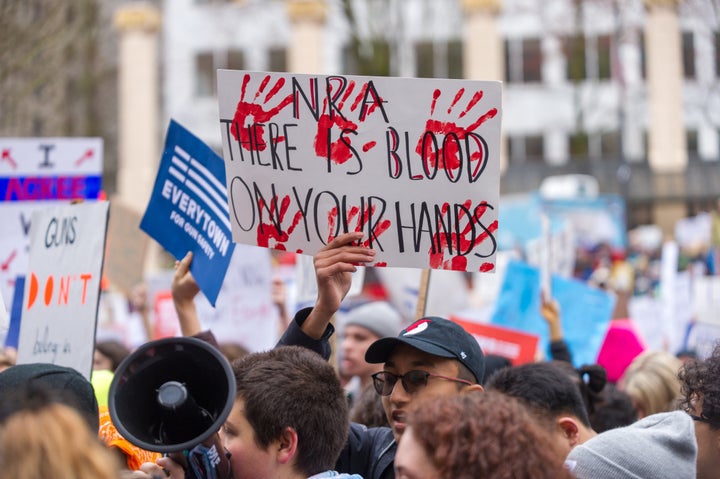 As hundreds of thousands of protesters prepared to gather in Washington and other cities across the U.S. on Saturday to demand meaningful gun reform, the National Rifle Association took to social media to mock the "March For Our Lives" event and the young gun violence survivors who spearheaded it.
The group posted a membership-drive video to Facebook with a scathing caption about the looming protest marches on Saturday morning.
"Today's protests aren't spontaneous," the post declared. "Gun-hating billionaires and Hollywood elites are manipulating and exploiting children as part of their plan to DESTROY the Second Amendment and strip us of our right to defend ourselves and our loved ones."
Join the NRA, the group added, to "stand and fight for our kids' safety."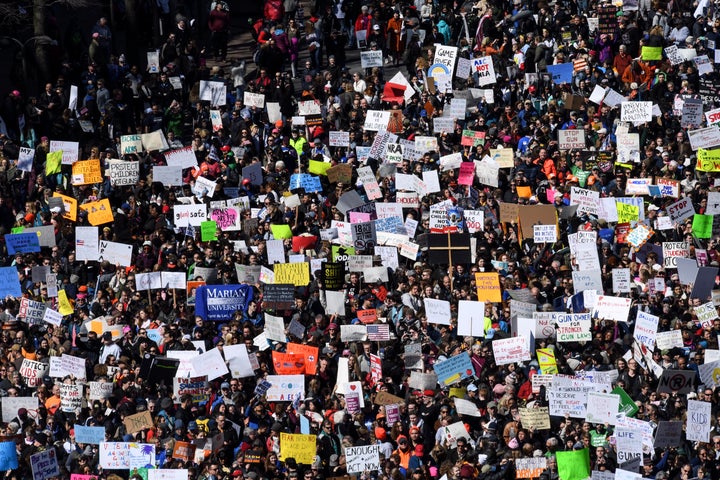 The young activists gave eloquent, impassioned speeches at the D.C. event, excoriating lawmakers who have failed to act to reduce gun violence and the NRA for lobbying against sensible gun control legislation.
"If we move on, the NRA and those against us will win," said 17-year-old survivor Delaney Tarr.  "They want us to forget. They want our voices to be silenced. And they want to retreat into the shadows where they can remain unnoticed. They want to be back on top, unquestioned in their corruption, but we cannot and we will not let that happen."
The clip, which featured NRA TV host "Colion Noir" (a pseudonym for Collins Iyare Idehen Jr.), had first been shared on YouTube on Thursday with the title "A March For Their Lies."
"From where I'm standing, it looks like a march to burn the Constitution and rewrite the parts that they don't like in crayon," Noir said, referring to the young activists leading the rally.
In another NRA TV clip posted Thursday, Noir had harangued the Parkland survivors, saying "no one would know your names" if someone with a gun had stopped the shooting at their school.
"These kids ought to be marching against their own hypocritical belief structures," Noir said, adding: "The only reason we've ever heard of them is because the guns didn't come soon enough."