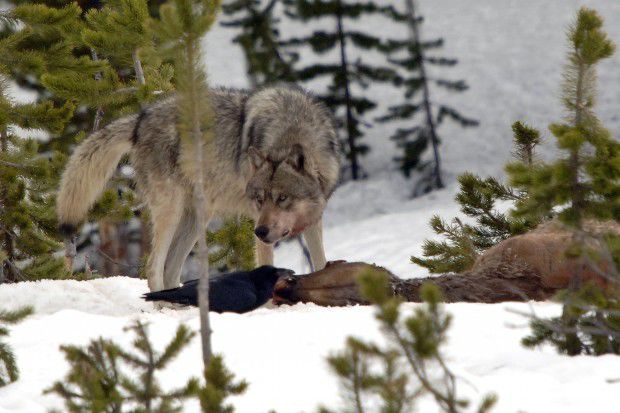 JACKSON — Hunting's return to the landscape slashed the number of wolves in Wyoming last year, though not to the degree wildlife managers sought.
Wyoming's goal was to cut its wolf population by nearly a quarter in places in which the state has control, but only a 16 percent reduction was accomplished. The reason managers missed the mark, Wyoming Game and Fish Department wolf biologist Ken Mills said, is there were more wolves than expected.
"What happened is the Fish and Wildlife Service didn't have anyone on the ground monitoring wolves," Mills said. "We located four additional packs. There were 19 adult wolves in those packs."
Hunters would have been allowed to target more wolves, he said, if those animals were identified ahead of an annual report that informs hunting seasons.
The annual census of Wyoming's wolves, published Wednesday, found there were 347 animals thought to roam the Equality State as the calendar turned to 2018 — down 30 from a year ago. Yellowstone National Park's population, 97 animals, remained about the same, as did the number of lobos calling the Wind River Indian Reservation home.
The most significant changes came in areas where Wyoming authorizes hunting, where the population fell from 285 to 238. A managed "trophy-game" hunting area in the Greater Yellowstone Ecosystem's interior housed 198 wolves at the end of the year. Another 40 of the large canines roamed the remainder of Wyoming, where wolves are managed as pests and can be killed indiscriminately. In both areas combined, 77 wolves were killed last year.
Groups like the Center for Biological Diversity view the calculated, hunting-driven population decline as a travesty.
"Wolves won't persist outside Yellowstone National Park if Wyoming continues to eradicate them at this appalling pace," said Victor, Idaho, resident Andrea Santarsiere, an attorney with the center.
Mills sees it differently. Wyoming's population, he said, is well above federally required "recovery" requirements: 50 wolves and five breeding pairs in Yellowstone and 100 animals and 10 breeding pairs outside the park. The wolf biologist noted the number of breeding pairs in the state increased over the last year, from 18 to 19.
"It's recovered, and it's functioning as a population," Mills said. "There's actually more wolves in 2017 in Wyoming outside of Yellowstone and the Wind River Reservation than there were before 2011 — before we ever managed wolves."
A lawsuit caused Wyoming to lose control of its wolf population from 2014 to spring 2017, during which time the Endangered Species Act protected lobos from hunting and populations hit record highs.
2016 was the most conflict-prone one for wolves and livestock since the native carnivores were reintroduced to the region 23 years ago. Twenty-five wolf packs killed 243 sheep, cattle and horses, and 113 wolves were killed in retaliation. The numbers fell last year, with 191 wolf-suspected livestock deaths and 61 lobos killed in response.
"I think pretty much everyone can say that's a positive, right?" Mills said. "Whether fewer wolves is a positive depends on who you are, but less conflict is a good thing."