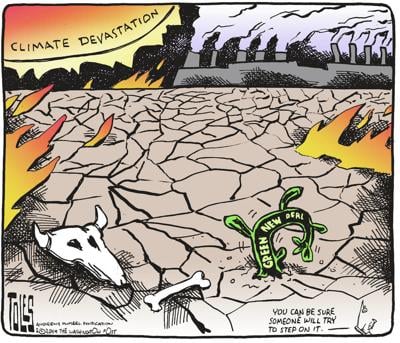 In an exciting stroke of the pen, Gov. Michelle Lujan Grisham announced that New Mexico will join the U.S. Climate Alliance, adding New Mexico to the growing list of states pledging to embrace the necessary and ambitious goals of the 2015 Paris Agreement ("On climate, Lujan Grisham starts to deliver," Our View, Jan. 31). Surrounded by environmental advocates, young people from the Santa Fe-based Global Warming Express, and heads of state agencies, we were honored to stand near the governor as she specifically named methane capture as a focal point in the state's effort to combat climate change.
Climate change is a big, complex issue that can be difficult to understand. Within this complicated issue, methane has been overlooked and action on it has been consistently delayed or even rolled back. Gov. Lujan Grisham understands this and her actions demonstrate the crucial role that methane capture will play in the fight against climate change. The impacts of climate change pose dramatic challenges for New Mexico, including fires, flooding, drought, health impacts, and dramatic shifts in our state's climate that will cause cascading damages to the state's ecosystems and cultural resources.
The most recent report from the United Nations Intergovernmental Panel on Climate Change highlights the narrow 12-year window we have to mitigate the worst effects of climate change. Because of its potency as a greenhouse gas, regulating methane emissions is one of the most promising ways to make dramatic short-term changes to the atmosphere that could be the difference between manageable climate impacts and disastrous ones.
We are proud to have a governor that is taking such decisive action, and we are proud to be part of the diverse coalition keeping climate change in the forefront of the state's legislative agenda. Over the past couple of years, Climate Advocates/Voces Unidas, known as CAVU, has worked hard to inform a wide audience about the the impacts of methane emissions to New Mexico. Our Unearthed film series continues to bring together a wide range of stakeholders to discuss the opportunities and challenges presented by oil and gas development in our state. By creating dialogue, we can work toward common sense solutions that protect our environment and move our economy forward. It is encouraging to see this work translate into policy.
On behalf of CAVU and the many organizations working to make New Mexico a leader in climate policy, we want to thank the governor for taking the lead with this executive order. As she said herself, "It's up to us" to face this problem head on.
Twelve years will pass in the blink of an eye. For the sake of our children, we look forward to finding solutions to the most pressing issue of our time.
Jordan Vaughan Smith and David Smith are the founders of Climate Advocates/Voces Unidas. They live in Santa Fe.