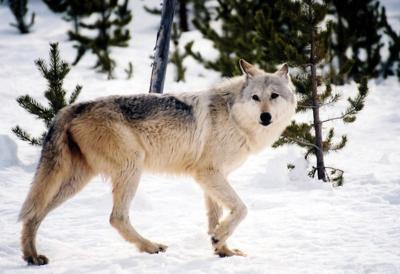 Wolves could be hunted at night and traps set along seasonally closed roads under a pair of bills brought by a northwest Montana lawmaker Thursday.
Rep. Bob Brown, R-Thompson Falls, brought House Bills 551 and 552 to the House Fish, Wildlife and Parks Committee.
The first bill would allow nighttime wolf hunting, making them the only big game animal that could be hunted outside of daylight hours. Other nongame animals such as coyotes and skunks already may be hunted at night.
"I know this is going to be a kind of an unpopular thing," Brown acknowledged after several wolf bills have already brought strong debate this session. But many of his constituents in northwest Montana have been outspoken about reducing wolf numbers, he said.
The bill saw support from two individuals who described it as "another tool in the toolbox" to manage wolves.
Garrett Bacon testified that it would help key in on problem wolves by allowing hunting when they are most active and possibly preying on livestock.
Scott Blackman also testified in support and believed the number of hunters that would focus on hunting wolves at night would be limited to a few serious individuals.
Several conservation groups testified in opposition on topics ranging from ethics to safety.
"We feel hunting any game animal at night is unethical," and won't help the image of hunters, said Nick Gevock with the Montana Wildlife Federation.
Marc Cooke with Wolves of the Rockies agreed with the ethical concerns but also noted that shooting at night raises safety issues with identifying a target and beyond.
Montana Fish, Wildlife & Parks testified in opposition, echoing the concerns of others as well as the propensity for poaching at night, which is often associated with spotlighting.
Brown's second bill, SB 552, was borne out of what he sees as difference in opinion about what constitutes a closed road when it comes to trapping and particularly the trapping of wolves.
Along open roads and trails, trapping regulations require traps be set a certain distance away. Called a "setback," the distance is intended to reduce conflicts with other recreationists, particularly those with dogs that may be unintentionally caught. Traps for most animals must be set 50 feet from a road or trail while wolf traps require a 150-foot setback.
Under the bill, setback regulations would not apply to roads closed year-round to highway vehicles nor would they apply to seasonally closed gated roads for wolf trapping. The setback regulations currently apply to seasonally closed roads.
Brown said he believed the definition of a closed and open road should be made by legislators rather than the Montana Fish and Wildlife Commission, and that many of the gated roads are in the high country that sees lower use by other recreationists. He also noted that while the areas in question are public land, pet owners "also need to take responsibility for their pets" when venturing out in wolf habitat and where trapping is taking place.
Blackman, testifying for the Montana Trappers Association, agreed with the bill and felt it was "nothing more than a clarification."
KC York with Trap Free Montana Public Lands disagreed, holding up a wolf trap and saying "Traps hold our public lands hostage," and adding that a great deal of work went into establishing setbacks.
Art Compton with the Sierra Club felt that roads closed year-round should be the last place to lift setbacks, as recreationists such as skiers and snowshoers seek those areas out to get away from motorized users.
Brown closed on the bill by noting that many miles of ungated roads would still fall under the setback regulations and reiterated responsibility.
"(We're) asking some responsibility from trappers in many cases and I think we need to ask some responsibility from pet owners," he said.
The committee did not take immediate action on the bills.