The Extinction Chronicles
For residents of Anchorage, July's wildfire and unprecedented temperatures plus the current McKinley Fire confirm that global heating has changed life forever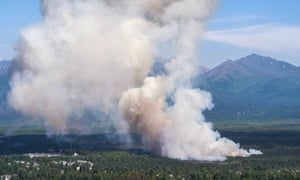 Major fires are burning this week in south-central Alaska, lengthening the state's wildfire season, which has usually ended by the beginning of August.
They come after Alaska's hottest July on record, during which its largest city, Anchorage, had a temperature pass 90F (32C) for the first time. On top of that, the area has seen little rain this summer, resulting in extremely dry conditions.
As firefighters tackle the blazes, officials are facing the longer term challenges of keeping the region safe amid increasing evidence of the impacts of the climate crisis.
View original post 1,338 more words