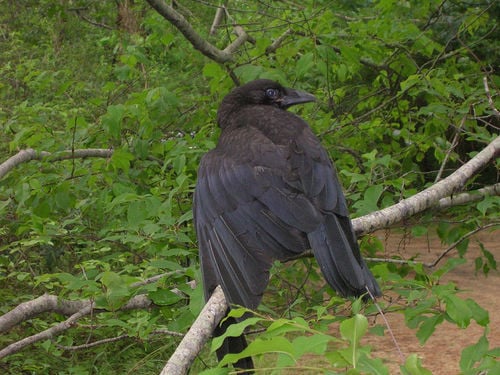 In a Sept. 16 "Democracy Now" segment, Amy Goodman highlighted the Trump administration's continuing assault on our public lands, opening the Alaskan National Wildlife Refuge (ANWAR) to drilling leases: "The plan calls for the creation of landing strips, drill pads, pipeline supports, a seawater treatment plant, 175 miles of roads and other infrastructure in Alaska's north coast."
Goodman's guest, Subhankar Banerjee, a professor of art and ecology at thee University of New Mexico, referenced the United Nations' frightening report on the annihilation of species on earth: "…as I see it, (it) is a bigger crisis than the climate crisis, that is unfolding before us — the media has miserably failed to inform the public — which is the crisis of extinction … the scientists call it 'biological annihilation.' Earlier this year, the United Nations IPBES released what is considered, for some of us, the grimmest warning of human history, that 1 million species on Earth, which is about more than 50% of the documented species on the planet, face extinction, many within decades … since 1970, globally, monitored populations of vertebrates, which includes birds, fish, mammals, amphibians and reptiles, have declined, on average, in population 60%."
The bear hunt continues into its third week of five, Sept. 4-Oct. 8. Most of the 3,835 bears (plus agricultural tags) have been killed either by the dogs, or the men, women and children who enjoy killing bears. At $49 per bear, it is a cheaper rug than from Walmart. It is likely to be a small rug since most of the bears killed are less than a year-and-a-half old, but there is that thrill, adrenaline rush, selfie with the carcass and trophy to take home. Little bear cubs hide in a tree watching their mother be killed. The mother bear may return from running killers away from her cubs to find her cubs killed or disappeared. Little bear orphans need their mothers to teach them how to den and need mother bear's warmth in the first winter during the human-caused dip of polar vortexes.
The bear kill is a more than $1 million dollar business for the DNR's recruitment and retention of more wildlife killers in hunting courses across our school systems and state. But if we had a democratic structure for governing our wildlife, each of the 5.7 million citizens of Wisconsin could throw in 50 cents each and come up with over $2.5 million to save our bears and wildlife killed in traps.
Structural revolution to democratic funding will not happen under Republican cruel rule. It has not been a priority for either party. It will require public awareness and intensive pressure, urgently needed and sadly lacking.
To add to the mayhem in the woods, out of sight, the bow hunting season on deer started Sept. 14. The nine-day "traditional" deer kill was an endurance test for those of us who live with wildlife in rural areas. Now archery and crossbow killing persist through Jan. 5, 2020. Extended bow hunting seasons continue in 22 counties through Jan. 31.
Overkill is an understatement.
Wisconsin legislators and the DNR promote unregistered, unlimited bear baiting and bear hounding in our public lands July 1-Aug. 31 continuing now throughout the five-week kill.
According to Wolf Patrol, which monitors the bear hounding: "In Wisconsin, 95% of legally killed black bears are taken with the aid of bait and/or dogs. An estimated 4 million gallons of bait and 15,000 bear hounds are dumped annually in Wisconsin to attract and chase bears. And it's not just baiting that is allowed, but as many baits as a hunter wants to use, all with no requirement for any hunting license or registration, preventing conservation officers from assuring that bear baits in our national forests are in compliance with even the minimal requirements."
Killers from other states, or in-state, do not have to be licensed to run packs of dogs — exhausting bears, running mothers away from cubs for hours or days — just when bears should be eating every day to put on weight for winter hibernation.
The bear killers continue to bait and run dogs in territory where dogs have been killed by wolves with DNR warnings to avoid those areas. Twenty-one hounds
have been killed
 so far. 
An Aug. 2017 Wisconsin Public Radio segment discussed that "new research shows bear bait makes up more than 40 percent of a black bear's diet in northern Wisconsin, and bait could be playing a role in the high density of bears up north, researchers say." Attempts to ban chocolate in bait, which has killed bears in neighboring states, were defeated by hunters at the annual DNR election and vote in April.
The Wolf Patrol is clamoring for restraint, having reported many non-compliant bait piles and hunters with not six dogs, but 30 dogs in 10 trucks, running bears day and night in unlimited abuse:
"It's time for Chequamegon-Nicolet National Forest officials to bring an end to bear baiting and hound training in Wisconsin, where it's (wreaking) havoc on wildlife and causing conflicts with wolves and other forest users. Nowhere else in the country are bear hunters allowed to dump as much bear bait as they desire, and chase the bears it attracts, 24 hours a day, seven days a week."
Please send the links to Madravenspeak bear columns to Gov. Evers and tell him that it is time for a first-time democracy in funding and fair, proportionate non-hunter participation in decisions to protect our wildlife.
Silence and inaction are complicity in this cruelty.
Attend the world premiere of "Anthropocene: The Human Epoch," sponsored by the Nelson Institute. from 7-9 p.m. on Sept. 25 at the Marquee Theater in Union South on the UW-Madison campus.