By John Koziol Union Leader Correspondent

Updated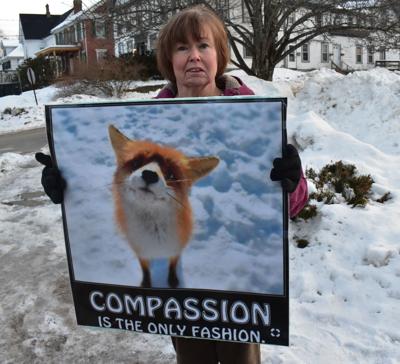 FRANKLIN — Ahead of what is expected to be a contentious, lengthy hearing on a bill that opponents say would lead to the elimination of recreational trapping, three animal-rights groups picketed the New Hampshire Trappers Association's annual banquet on Saturday.
From about 4:15 to 5:30 p.m., a dozen-plus people and one human-sized red fox representing NH Citizens Against Recreational Trapping, NH Animal Rights League, and Twin State Animal Liberation conducted an informational picket on South Main Street, outside the Franklin Elks Lodge, where the banquet was held.
Kristina Snyder of Chester said the goal of the picket was to raise public awareness about trapping, the NHTA's relationship with the Miss New Hampshire Scholarship Program, and House Bill 1504.
On Tuesday at 2 p.m. in Rooms 305-307 in the Legislative Office Building, the House of Representative's Fish and Game and Marine Resources Committee is scheduled to take up HB 1504, which would create a study committee to examine the feasibility of banning recreational trapping and would require that committee to file a report by Nov. 1.
The NHTA, on its website, urged members to attend the HB 1504 hearing, saying that "if there was one day worth taking a day off from work to attend it would be this one." The NHTA says "trapping is humane and the only way to successfully control furbearer populations."
Larry Torr, president of the NHTA, was not immediately available for comment.
Holding a large photo of a silver fox with its leg caught in a trap, Snyder said HB 1504 would ban recreational trapping, but not commercial trapping of nuisance wildlife.
She said that in September 2019, California became the first state to make recreational trapping illegal and that the Granite State should follow suit.
Animals feel fear and pain, she said, and trapping is an outdated and unnecessary tradition.
Another tradition that should end, Snyder said, is that of the NHTA annually presenting a coat made of furs collected by members to the winner the Miss New Hampshire competition.
An official with the Miss New Hampshire Scholarship Program, in published reports last year, said the organization, despite the controversy, would continue its relationship with the NHTA, adding that the Miss New Hampshire winner had the option of accepting the fur coat, something Snyder disputes.
Annie Smith, of Westminster, Vt., came to Saturday's picket because, she said, "we want to let people know that trapping still goes on and there's no reason for it."
Smith, who held a picture of a red fox, is confident that recreational trapping will cease. "I just hope it happens in my lifetime," she said.
Further up the picket line, a much larger, faux red fox, who said his name is Anonymous and that he hails from New Hampshire, said the NHTA and "a few hundred trappers are holding wildlife hostage. It's time for that to end."