https://www.scmp.com/news/china/diplomacy/article/3096038/china-bans-squid-catch-some-overseas-waters-overfishing?fbclid=IwAR3BCjJVHCxH_sdXtV8UV7aAvnBuXzTxfFcOLeaduFt7YWpNki2bvYsrha0
China bans squid catch in some overseas waters with overfishing in spotlight
Three-month halt in designated areas to protect populations of squid, with Chinese boats accounting for up to 70 per cent of the global catch
Ban follows backlash against the country's fishers, accused of violating sovereign rights of coastal states and damaging ecosystems


Linda Lew and Laura Zhou in Beijing
Published: 7:00am, 5 Aug, 2020Why you can trust SCMP
TOP PICKShttps://tpc.googlesyndication.com/safeframe/1-0-37/html/container.htmlNewsAustralia university backs tweet deletes after China social media storm4 Aug 2020CoronavirusChina worried about 'losing face' as Japan bankrolls exodus of firms5 Aug 2020NewsBig step forward in US pharma giant's Covid-19 antibody drug trials5 Aug 2020NewsChina's J-20 carrier-based jet fighter influenced by US ideas, designer says2 Aug 2020NewsWhy China's Wang Yi went Wolf Warrior after offering US 'olive branch'1 Aug 2020NewsTrump demands TikTok sale, wants 'very large percentage' of proceeds4 Aug 2020NewsMainland China deploys more amphibious weapon systems in Taiwan mission5 Aug 2020NewsSouth China Sea: Chinese air force steps up combat-readiness drills5 Aug 2020NewsTaiwan sends marines to reinforce South China Sea outpost5 Aug 2020EconomyChina corn video stokes food security fears amid Covid-19, flooding, drought4 Aug 2020https://tpc.googlesyndication.com/safeframe/1-0-37/html/container.html9.5k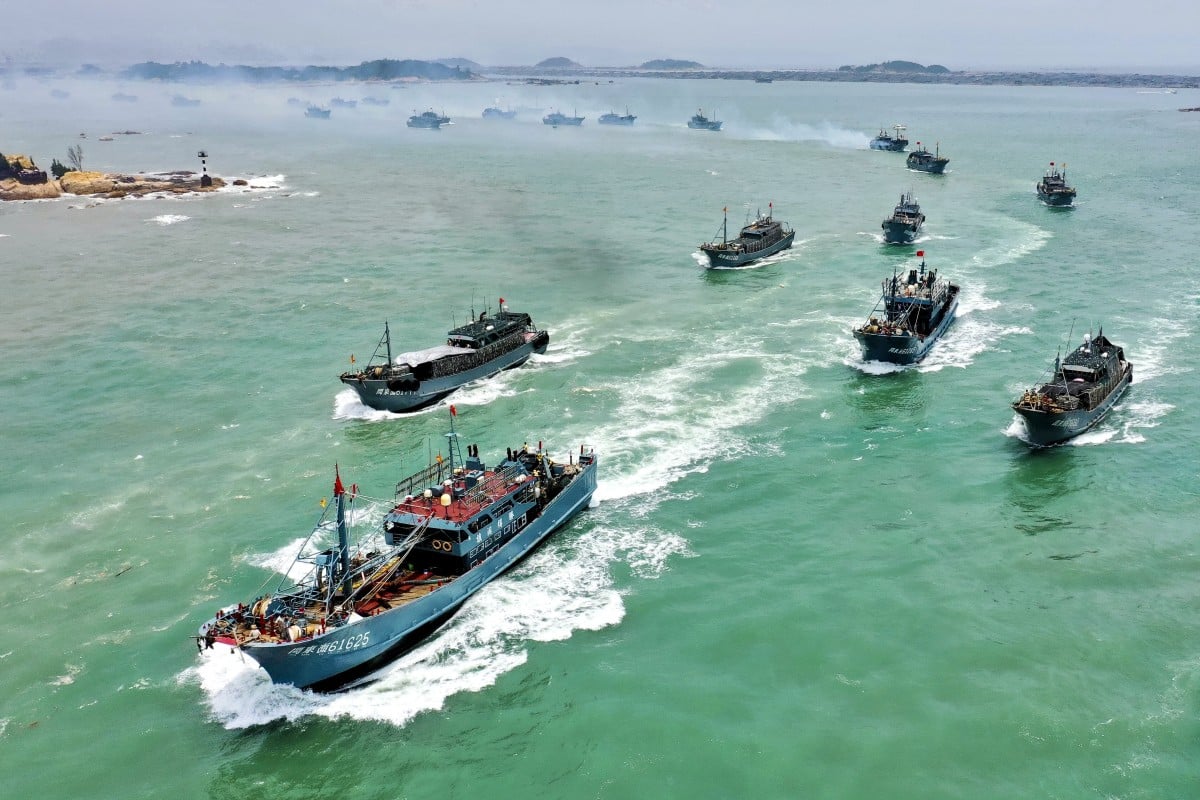 Chinese fishing vessels have been involved in several confrontations in other countries' waters. Photo: XinhuaChina has said its fishing fleet, the world's biggest, has been banned from catching squid in parts of the Atlantic and Pacific oceans for three months to help populations recover. It comes as environmental groups and some nations say the country's fleet is threatening to wipe out some fish populations.
The moratorium, effective from July, bans all Chinese fishing boats from operating in the designated areas, which are spawning grounds for squid – the main catch of the country's vessels in international waters, according to the Ministry of Agriculture and Rural Affairs.
"The first fishing ban in international waters … shows that China is willingly and proactively collaborating with relevant coastal countries and international organisations in setting up recommendations and measures to protect the marine resources in international seas," said Liu Yadan, the deputy secretary of the China Agricultural Association for International Exchange.
The ban comes as China faces a backlash over its fishing fleets, most recently for hundreds of vessels that converged around marine sanctuaries off Ecuador and the Galapagos Islands. Ecuador said it registered a complaint about the fleet and informed China's authorities that Ecuador would defend its maritime rights.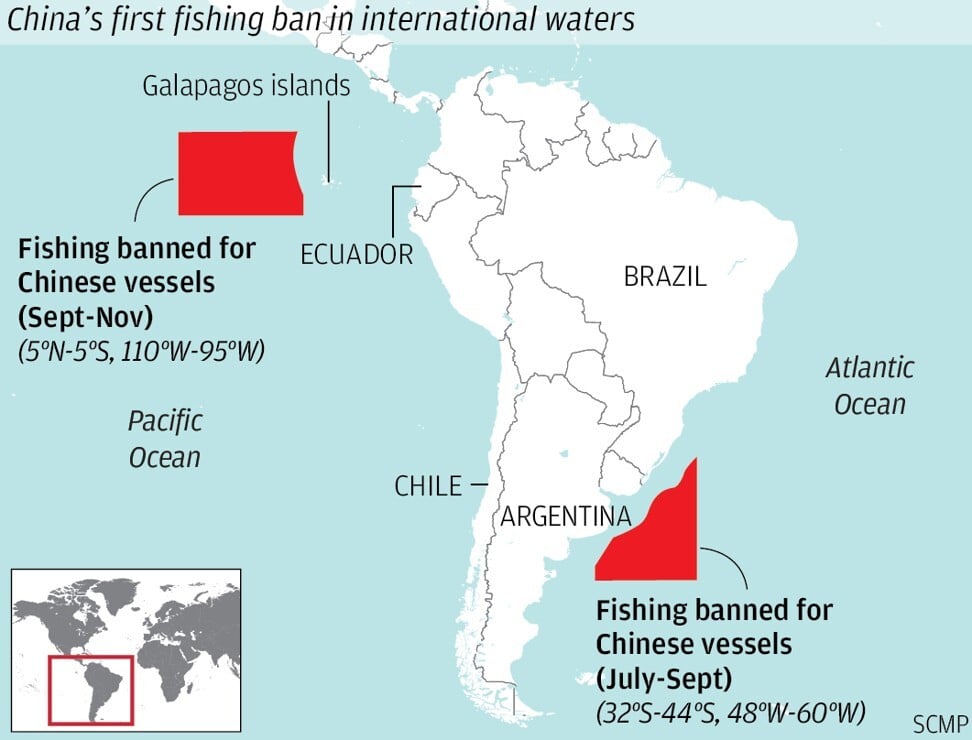 China's bans on fishing in waters off South America. Map: SCMP
Chinese fishing vessels have also been in confrontations near Africa and the Korean peninsula.https://imasdk.googleapis.com/js/core/bridge3.400.1_en.html#goog_236008454
On Sunday, US Secretary of State Mike Pompeo issued a statement that noted the vessels near the Galapagos, and criticised Chinese fishing fleets for violating sovereign rights of coastal states and damaging ecosystems.
"Given this unfortunate record of illegal, unreported and unregulated fishing, rule-breaking and wilful environmental degradation, it is more important than ever that the international community stands together for the rule of law and insists on better environmental stewardship from Beijing," Pompeo said in the statement.SCMP GLOBAL IMPACT NEWSLETTERUncover the most important stories from China that affect the worldSIGN UPBy registering, you agree to our T&C and Privacy Policy
China reels in as much as 70 per cent of the global squid catch. The country has over 600 squid vessels, which hauled in more than 520,000 tonnes in 2018, according to statistics from China's Academy of Ocean.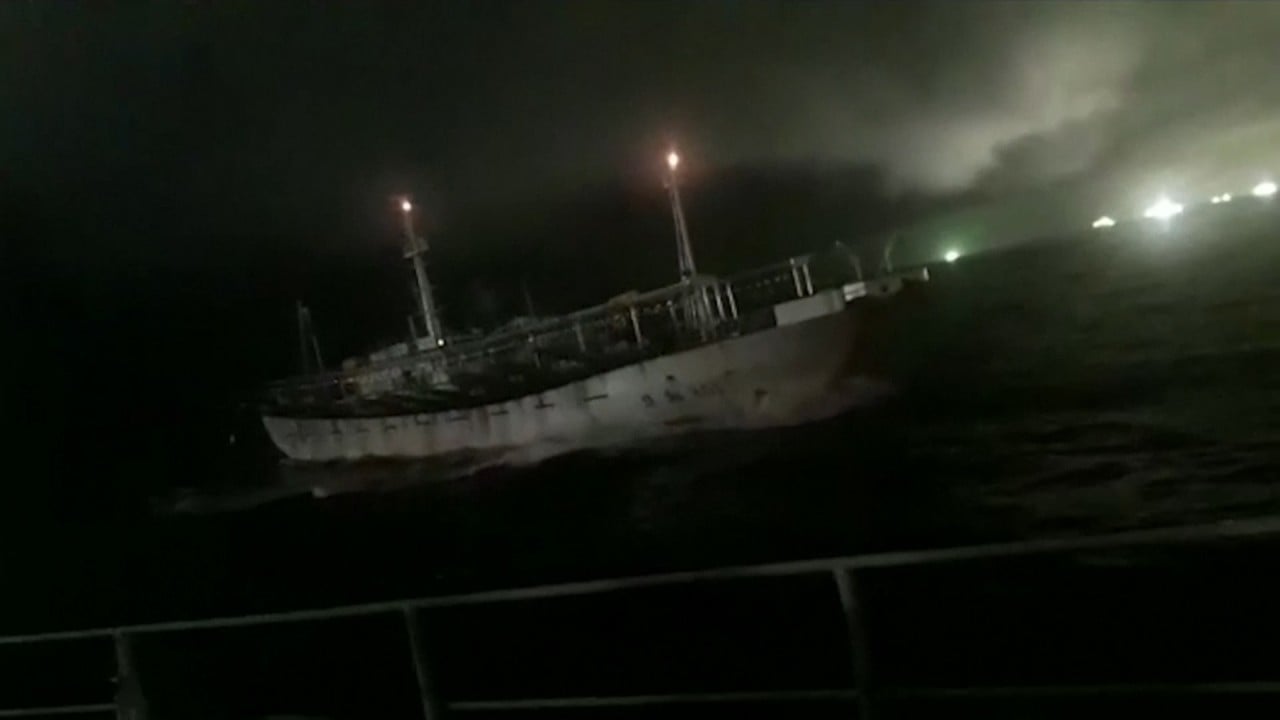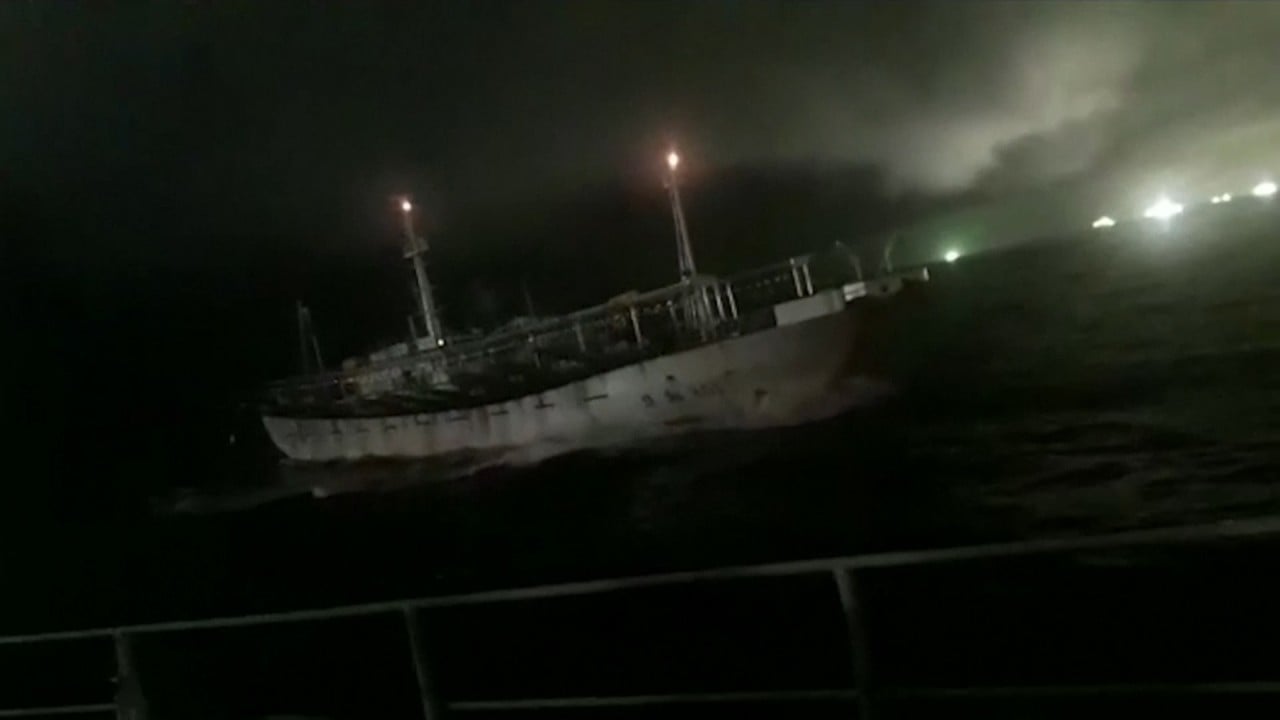 01:41
Argentine coast guard opens fire on Chinese fishing boat
Argentine coast guard opens fire on Chinese fishing boatAreas covered by the moratorium are the two most important international squid fishing grounds for China's fleet. The one in the South Atlantic near Argentina has almost 200 Chinese vessels operating there, while the banned zone in the Pacific is near Ecuador, according to a report by China Newsweek magazine.
The agricultural ministry said all Chinese vessels had now left the South Atlantic area where the ban has been imposed. The majority shifted to the Pacific or other international waters, according to the report.
China will also work on protective measures for other species such as tuna and Pacific saury, Liu at the Agricultural Association said in a July 22 article she wrote for the China Fisheries Association.The country has had annual fishing bans in its surrounding waters and claimed territories in the South China Sea since the 1990s, but this was the first time a ban was imposed on Chinese fleets in international waters, according to the agricultural ministry.https://www.youtube.com/embed/-TECC1o0J5k?rel=0&mute=1&playsinline=1&frameborder=0&autoplay=0&embed_config=%7B%22relatedChannels%22%3A%5B%22UC4SUWizzKc1tptprBkWjX2Q%22%5D%2C%22adsConfig%22%3A%7B%22adTagParameters%22%3A%7B%22iu%22%3A%22%2F8134%2Fscmp%2Fweb%2Fchina_diplomacydefence%2Farticle%2Finstream1%22%2C%22cust_params%22%3A%7B%22paid%22%3A1%2C%22scnid%22%3A%223096038%22%2C%22sctid%22%3A%22325298%22%2C%22scsid%22%3A%5B%2291%22%2C%224%22%2C%22318199%22%5D%2C%22articletype%22%3A%22DEFAULT%22%7D%7D%2C%22nonPersonalizedAd%22%3Atrue%7D%7D&enablejsapi=1&origin=https%3A%2F%2Fwww.scmp.com&widgetid=2Body of Indonesian fisherman dumped overboard amid allegations of abuse on Chinese ship
Body of Indonesian fisherman dumped overboard amid allegations of abuse on Chinese shipChina has also been trying to rein in illegal fishing. In its 13th five-year plan covering 2016 to 2020, language about illegal, unreported and unregulated (IUU) fishing was added to its new distant water fishing regulations for the first time.
The fisheries law that came into effect in March increased monitoring, control and surveillance, and stricter penalties for violations, including the creation of an IUU blacklist.
Tabitha Mallory, an affiliate professor with the University of Washington, said these could be seen as "positive first steps".
"The Chinese government does not want to see its fishing fleet engage in activities that are harmful to other countries or to the environment. China cares about its reputation on this front, which is what is motivating the steps toward better management," said Mallory, who researches China and global ocean governance.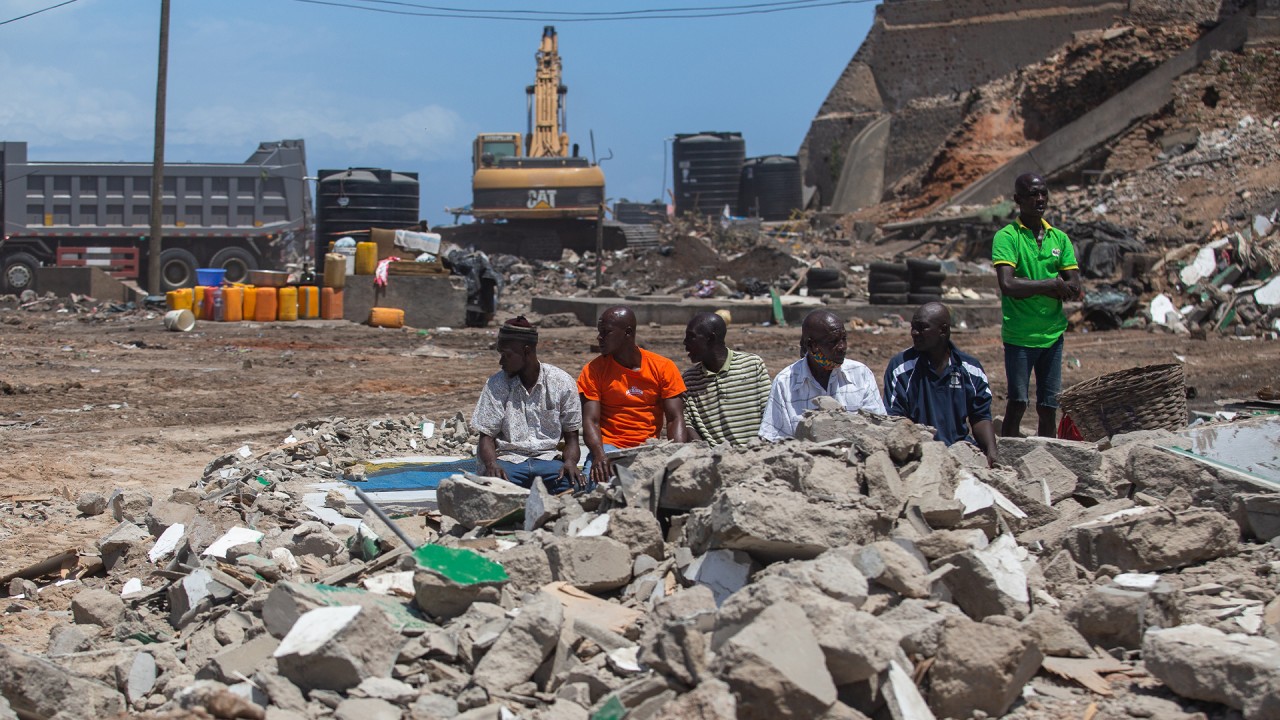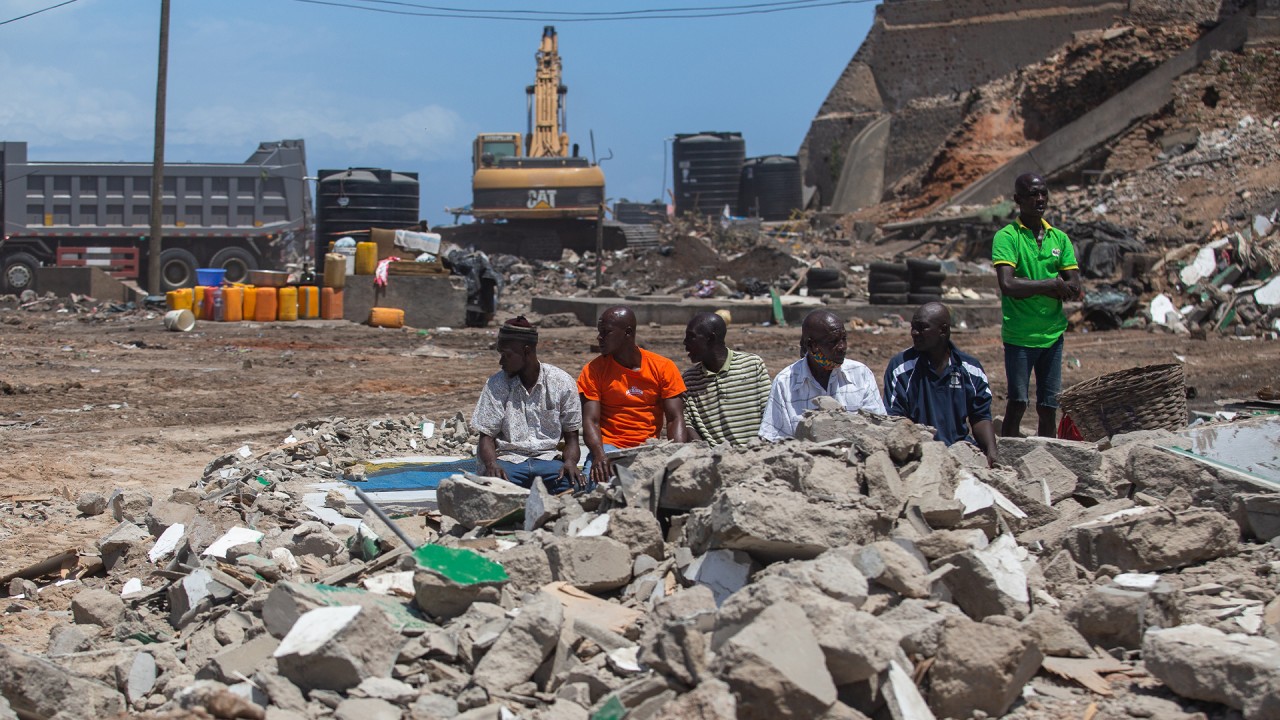 01:52
Historic fishing community in Ghana demolished for new harbour project funded by China
Historic fishing community in Ghana demolished for new harbour project funded by China
In addition to criticism from Ecuador, Chinese vessels have also been in clashes with Argentine authorities.
The Chinese trawler Lu Yan Yuan Yu 010 was sunk by Argentine coastguards in 2016, but disputes involving Chinese vessels have continued in the region. Earlier this year, the Argentine navy reported two Chinese vessels for illegal fishing in the country's exclusive economic zone after pursuing the ships, according to digital magazine Dialogo.
Pan Wenjing, forest and oceans manager for Greenpeace East Asia, said incidents in Argentina's waters could be one of the reasons that Beijing pushed for a voluntary ban on squid fishing.
"The southwest Atlantic is a major fishing ground for squid and thousand of boats operate in that area every year, including some of the large trawlers from China, which from time to time would cross maritime borders and cause conflicts in the region," Pan said.
"That is also one of the reasons why China announced regulations on squid fishing in the high seas."
Although the fishing ban is a good step, more is needed to promote marine conservation, said Wang Songlin, the founder of Qingdao Marine Conservation Society.
"The fishing ban is not a cure-all," Wang said. "If after the ban, operation resumes and the amount fished is greater than the capacity of the ecosystem, then the conservation effects from the several months of the fishing moratorium would be cancelled out by the overfishing."
Other measures were needed, he said, such as reducing the total number of fishing vessels, banning trawler nets that scoop up all surrounding marine life instead of just target species, and setting up marine protection zones.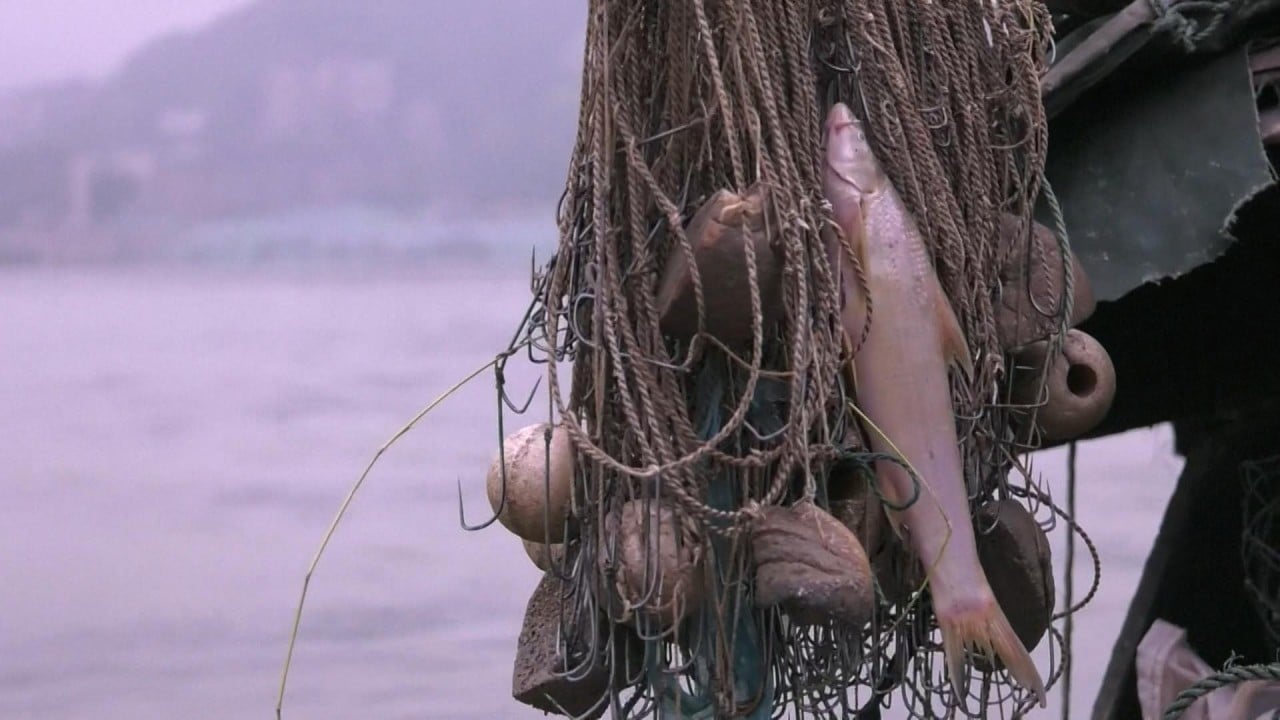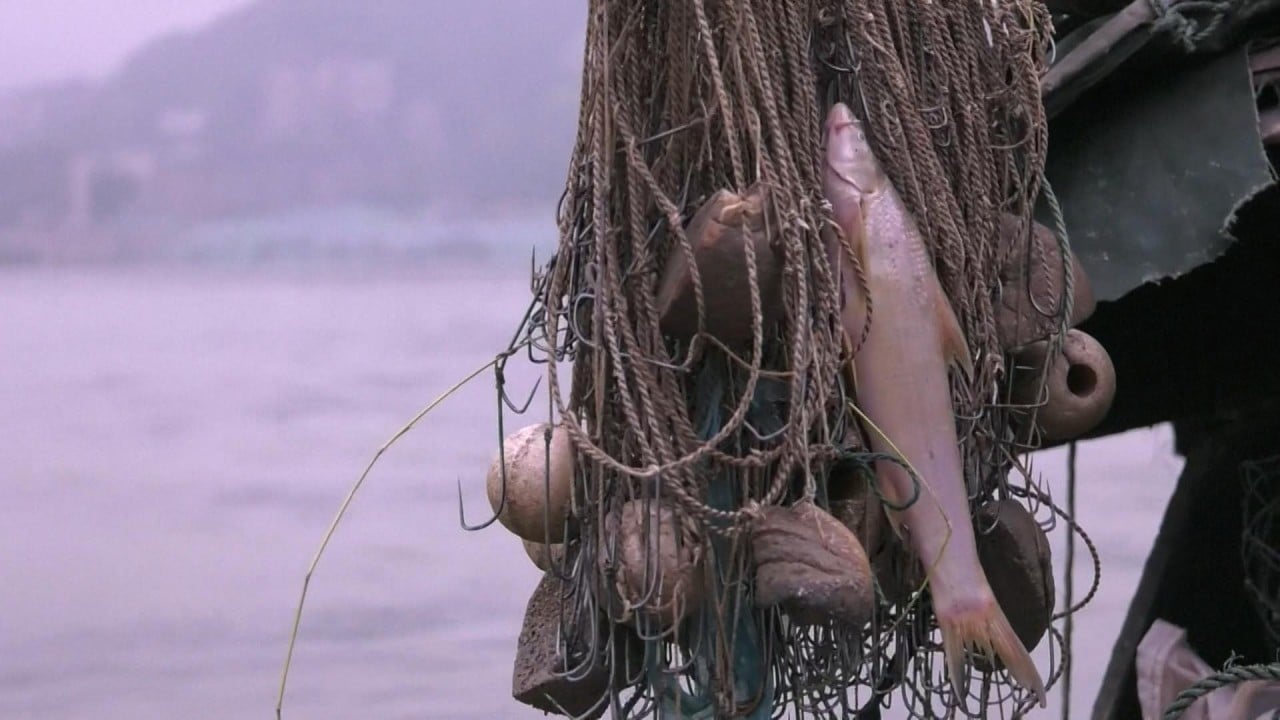 01:57
China imposes a 10-year fishing ban for Yangtze River to protect marine biodiversity
China imposes a 10-year fishing ban for Yangtze River to protect marine biodiversity
There are also humanitarian concerns relating to China's fishing industry.
Conservation group Global Fishing Watch found that North Korean fishers have been displaced, as Chinese vessels operating in North Korean waters have hauled in massive amounts of squid, which was North Korea's third largest export until it was blocked by US sanctions, imposed because of Pyongyang's nuclear weapons programme.
A report by the group published in July, using analysis of tracking data and satellite imagery, estimated more than 900 China fishing vessels trawled for squid in the sea between North Korea and Russia in 2017, and over 700 in 2018.
These ships, which can include legally operated ships and illegal ones, were estimated to have hauled in 101,300 tonnes of squid worth US$275 million in 2017 and 62,800 tonnes of squid worth US$171 million in 2018. This was roughly equal to what Japan and South Korea combined would catch from all their surrounding seas, the report said.
Nothing like this had been seen before, according to Jaeyoon Park, senior data scientist at Global Fishing Watch. "It's a really enormous group of vessels," Park said.
"The presence of this foreign fleet also has severe consequences for North Korean small-scale fishermen, who can't compete," the report said. Those smaller vessels often went further out to sea and met tragedy, as seen in a phenomenon known as "ghost boats".
Between 2014 and 2018, 505 North Korean "ghost boats" washed ashore on Japanese coasts, some of them containing human remains of fishers who had died from starvation as they were driven further afield to find fish, using boats not equipped for deepwater travel, according to the report.
"It's not simply about conservation and protection of the environment," Park said. "It represents a serious humanitarian problem."Purchase the 120+ page China Internet Report 2020 Pro Edition, brought to you by SCMP Research, and enjoy a 30% discount (original price US$400). The report includes deep-dive analysis, trends, and case studies on the 10 most important internet sectors. Now in its 3rd year, this go-to source for understanding China tech also comes with exclusive access to 6+ webinars with C-level executives, including Charles Li, CEO of HKEX, James Peng, CEO/founder of Pony.ai, and senior executives from Alibaba, Huawei, Kuaishou, Pinduoduo, and more. Offer valid until 31 August 2020. To purchase, please click here.