By Diane Lincoln – Live Science Contributor 5 hours ago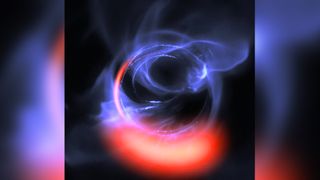 The European Southern Observatory's GRAVITY instrument revealed clumps of gas swirling around just outside the supermassive black hole at the center of our galaxy. Here, a visualization of that orbiting gas.(Image: © ESO/Gravity Consortium/L. Calçada)
The supermassive black hole hiding in the center of our galaxy is much closer to Earth, about 2,000 light-years closer, than scientists thought, according to new research out of Japan.
Not only that but our solar system is moving faster than thought as it orbits this galactic center.
All this doesn't mean you need to worry that Earth is zooming toward the central behemoth or that we will get sucked up by the gravity monster, the researchers noted. We are still quite a ways from the black hole, dubbed Sagittarius A* (Sgr A*): 25,800 light-years, where one light-year is about 6 trillion miles (9.5 trillion kilometers).
Related: The biggest black hole findings
The study is part of the VERA Experiment, or the VLBI Exploration of Radio Astrometry, whose aim is to explore the three-dimensional structure of the Milky Way. Since we live within the Milky Way, scientists can't just take a snapshot of it to figure out its structure. Instead, they take precise measurements of stars' sizes, positions and orbital velocities — how fast they circle the galactic center — in a scientific field called astrometry. The resulting maps can shed light on details of our Milky Way, the stars in it and possibly the universe.
Researchers can now "measure distances of stars located farther and 30,000 light-years from our solar system," said Tomoya Hirota, a professor in the Department of Astronomy at SOKENDAI and the leader of the data analysis team in VERA.