There are about 20 mink farms currently operating in Nova Scotia, and about 100 across CanadaDec 16, 2020 2:45 PM By: Katie Hartai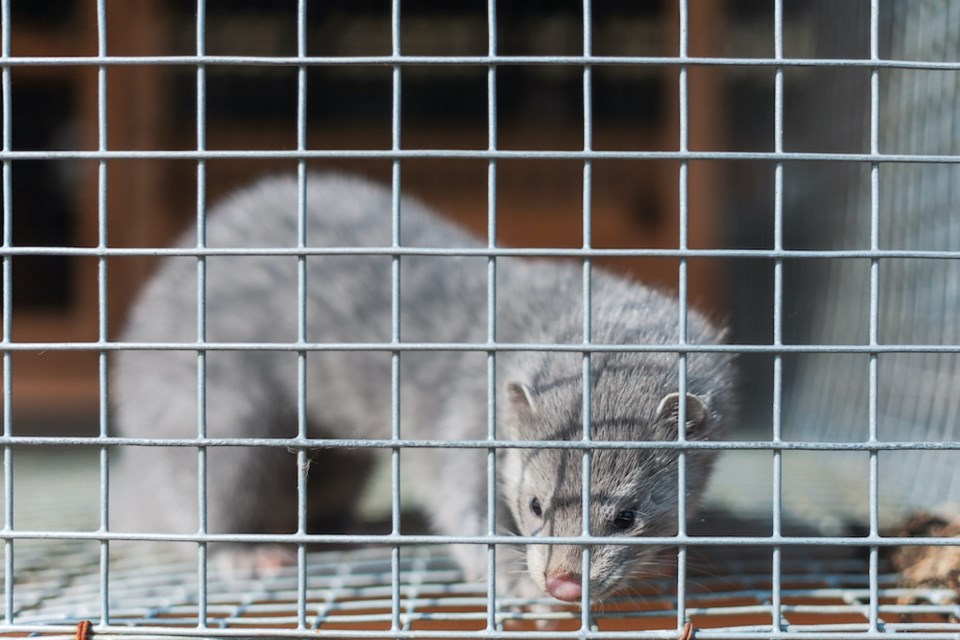 Stock photo
Mink breeders in Nova Scotia say safety measures are in place to prevent COVID-19 outbreaks on their farms.
At this point, mink are the only known animal to be able to both catch the virus from humans and to transmit it to them. Concerns have been raised around the world about the virus mutating in mink which could make vaccines less effective.
The president of the Nova Scotia Mink Breeders Association says farmers in the province have been keeping a close eye on the situation abroad.
"We've had the advantage of knowing about the European countries for some months now, and have had lots of lead time to ramp up our biosecurity measures and on-farm practices," says Matt Moses.
Last month Denmark, the world's largest mink producer, ordered all farms cull their animals to minimize risk. Up to 17 million mink were killed.
More recently, COVID-19 has also been detected among employees at a mink farm in British Columbia. Hundreds of the animals have died since the outbreak with the virus likely the cause of death, although officials are still awaiting test results.
"We are very lucky to be one of the last producing jurisdictions in the world to actually get COVID on a farm," Moses says. "That's a testament to me of how well farms have reacted to these measures."
In 2018, Statistics Canada recorded 98 mink farms in Canada. According to the Nova Scotia Mink Breeders Association, there are about 20 mink farms currently operating in our province, making it one of the biggest producers in the country.
Moses says only essential staff wearing personal protective equipment are entering mink housing to reduce the possibility of virus transmission.
"We are at the time of year right now where most of the animal to human contact is complete, and we are down to a small percentage of our normal herd size," he says. "We are operating with very minimal human exposure."
Some hands-on work like weaning and vaccinating happens around June. Typically, mink are killed in November or December when their winter coat reaches its prime.
Moses says breeders are monitoring their herds for signs of COVID-19 and have a comprehensive plan in place in case an outbreak does happen.
"We've been planning since very early in the year for when this does occur," he says. "It's a matter of quarantining the farm and limiting exposure so the virus can run its course like any virus, and ensuring humans do the same."
He says the association is also advocating for mink farmers to be prioritized for the COVID-19 vaccine.
Moses says there has always been "good demand" for mink pelts, with Nova Scotia's main markets currently in China, Korea, Russia, and Greece.
Others say the fur industry faces an uncertain future.
A recent Research Co. survey suggests 81 per cent of Canadians oppose killing animals for their fur. That support is however lowest in the Atlantic provinces at 70 per cent.
Fur farming has been banned in a number of countries around the world, including the United Kingdom (2000), Austria (2005), and Croatia (2018).
Other jurisdictions have introduced laws to phase out fur farming. The Netherlands passed legislation in 2012 that would phase-out mink fur production by 2024, but following COVID-19 outbreaks on fur farms in the country earlier this year, the government declared an early shutdown of the industry, ordering all farms to close by March of next year.
Animal activists in Nova Scotia like Ty Savoy want to see the potential risk associated with mink farming during the pandemic, encourage lawmakers to initiate similar bans.
"COVID-19 should shut them down worldwide if there is any justice at all," says Savoy. "If you look at the risk-benefit ratio, there isn't a whole lot of benefit."
He believes there are well-documented animal welfare and environmental issues associated with fur farming, and the pandemic has shed light on the industry's relation to major disease outbreaks.
"If there was a COVID-19 outbreak on the mink farms here, the mink escape all the time," he says. "It will spread into wild animal populations."
The first known case of the novel coronavirus in a wild animal was confirmed this week in Utah.