The Extinction Chronicles
ByMindy Weisberger-Senior Writer4 hours ago
The Greenland Ice Sheet is one of the largest ice sheets in the world.
https://www.livescience.com/greenland-ice-loss-threshold-2055.html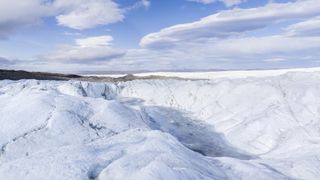 The Greenland ice sheet is a vast body of ice covering 660,000 square miles (1,710,000 square kilometres), roughly 80% of the surface of Greenland.(Image: © Danita Delimont/Getty Images)
FrozenGreenlandis on track to become significantly less frozen before the 21st century is over. By 2055, winter snowfall on the Greenland Ice Sheet will no longer be enough to replenish the ice that Greenland loses each summer, new research finds.
Rising global temperatures are driving this dramatic change. If Earth continues to heat up at its present pace, average global temperatures should climb by nearly 5 degrees Fahrenheit (2.7 degrees Celsius) by 2055. Regional averages in Greenland become even hotter, rising by about 8 F (4.5 C), scientists reported in a new study.
Under those conditions, Greenland's annual…
View original post 751 more words