The Extinction Chronicles
ByPatrick Pester-Staff Writer6 hours ago
Don't panic; it won't get that close.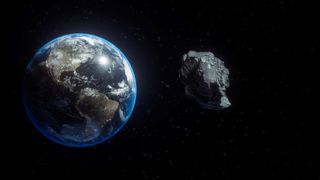 3D illustration of an asteroid flying past Earth.(Image: © Aleksandra Sova via Shutterstock)
An asteroid as wide as the Golden Gate Bridge is long will hurtle past Earth next month. But although it will be the biggest and speediest asteroid to fly by our planet this year, there's no reason to panic.
The space rock, officially called 231937 (2001 FO32), is about 0.5 to 1 mile (0.8 to 1.7 kilometers) in diameter and will come within 1.25 million miles (2 million kilometers) of Earth at 11:03 a.m. EST (1603 GMT) on March 21 — close enough and large enough to be classified as "potentially hazardous,"according to a databasepublished by NASA's Jet Propulsion Laboratory.
An asteroid is designated as "potentially hazardous" when its orbit intersects with Earth's at a distance of no more than…
View original post 353 more words