The Extinction Chronicles
SPACE10 February 2023
https://www.sciencealert.com/part-of-the-sun-has-broken-off-and-formed-a-vortex-what-the-heck-is-going-on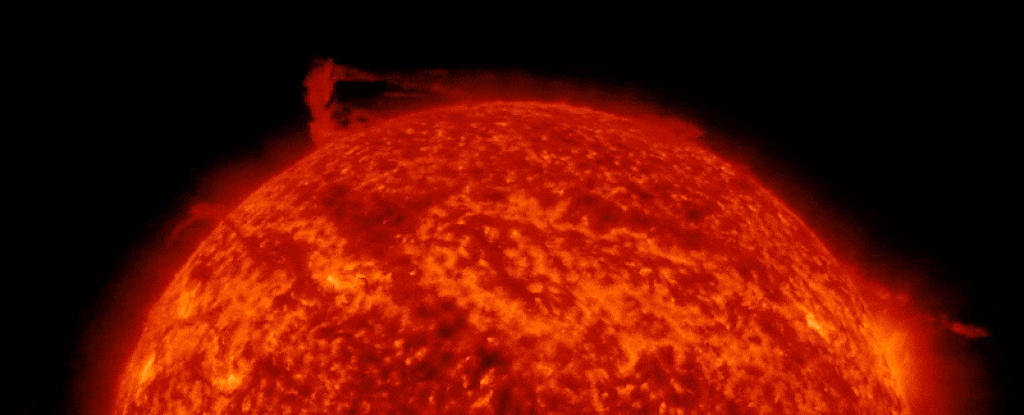 Footage of the vortex from NASA's Solar Dynamics Observatory.(Dr. Tamitha Skov/Twitter)
For all that the Sun is a ubiquitous and vital part of our lives, a lot about it remains baffling. And now it's done something decidedly peculiar.
Material from a filament of plasma erupting from the Sun's surface broke away and appeared to form a crown-like vortex over the solar north pole.
Further analysis will be required to determine whether or not this is what actually occurred.
For now, scientists are saying that they've not quite seen anything like it – and the footage itself is undoubtedly spectacular.
https://platform.twitter.com/embed/Tweet.html?creatorScreenName=ScienceAlert&dnt=true&embedId=twitter-widget-0&features=eyJ0ZndfdGltZWxpbmVfbGlzdCI6eyJidWNrZXQiOltdLCJ2ZXJzaW9uIjpudWxsfSwidGZ3X2ZvbGxvd2VyX2NvdW50X3N1bnNldCI6eyJidWNrZXQiOnRydWUsInZlcnNpb24iOm51bGx9LCJ0ZndfdHdlZXRfZWRpdF9iYWNrZW5kIjp7ImJ1Y2tldCI6Im9uIiwidmVyc2lvbiI6bnVsbH0sInRmd19yZWZzcmNfc2Vzc2lvbiI6eyJidWNrZXQiOiJvbiIsInZlcnNpb24iOm51bGx9LCJ0Zndfc2hvd19idXNpbmVzc192ZXJpZmllZF9iYWRnZSI6eyJidWNrZXQiOiJvbiIsInZlcnNpb24iOm51bGx9LCJ0ZndfbWl4ZWRfbWVkaWFfMTU4OTciOnsiYnVja2V0IjoidHJlYXRtZW50IiwidmVyc2lvbiI6bnVsbH0sInRmd19leHBlcmltZW50c19jb29raWVfZXhwaXJhdGlvbiI6eyJidWNrZXQiOjEyMDk2MDAsInZlcnNpb24iOm51bGx9LCJ0ZndfZHVwbGljYXRlX3NjcmliZXNfdG9fc2V0dGluZ3MiOnsiYnVja2V0Ijoib24iLCJ2ZXJzaW9uIjpudWxsfSwidGZ3X3ZpZGVvX2hsc19keW5hbWljX21hbmlmZXN0c18xNTA4MiI6eyJidWNrZXQiOiJ0cnVlX2JpdHJhdGUiLCJ2ZXJzaW9uIjpudWxsfSwidGZ3X3Nob3dfYmx1ZV92ZXJpZmllZF9iYWRnZSI6eyJidWNrZXQiOiJvbiIsInZlcnNpb24iOm51bGx9LCJ0ZndfbGVnYWN5X3RpbWVsaW5lX3N1bnNldCI6eyJidWNrZXQiOnRydWUsInZlcnNpb24iOm51bGx9LCJ0Zndfc2hvd19nb3ZfdmVyaWZpZWRfYmFkZ2UiOnsiYnVja2V0Ijoib24iLCJ2ZXJzaW9uIjpudWxsfSwidGZ3X3Nob3dfYnVzaW5lc3NfYWZmaWxpYXRlX2JhZGdlIjp7ImJ1Y2tldCI6Im9uIiwidmVyc2lvbiI6bnVsbH0sInRmd190d2VldF9lZGl0X2Zyb250ZW5kIjp7ImJ1Y2tldCI6Im9uIiwidmVyc2lvbiI6bnVsbH19&frame=false&hideCard=false&hideThread=false&id=1621276153075109888&lang=en&origin=https%3A%2F%2Fwww.sciencealert.com%2Fpart-of-the-sun-has-broken-off-and-formed-a-vortex-what-the-heck-is-going-on&sessionId=a7270bc6edca057f9e108613c9daca6db26ab302&siteScreenName=ScienceAlert&theme=light&widgetsVersion=aaf4084522e3a%3A1674595607486&width=500px
Solar shenanigans are not entirely unexpected currently. Our star is ramping up its activity, getting rowdier with sunspot and flare activity. It has flared every day this year so far, and itspat out severalX-class and M-class flares in January…
View original post 462 more words