The Extinction Chronicles
4 Jul, 2020 12:58 

/ Updated 2 hours ago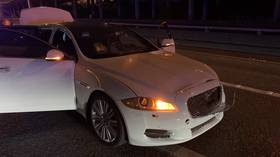 A speeding car, which drove around vehicles blocking a road in Seattle in an area where a Black Lives Matter protest was taking place, has hit and seriously injured two women. The terrifying moment was caught on camera.
The two victims of the hit-and-run were taken to the Harborview medical center, one of them with life-threatening injuries, Washington State Patrol spokesperson Trooper Rick Johnson said on Twitter.
The graphic video shows a white car maneuvering around a couple of vehicles blocking the road and hitting the protesters in the process. The collision sends the victims flying as the car struggles to get back to the middle of the road.
WARNING! GRAPHIC CONTENT
Johnson posted pictures of the vehicle involved, showing extensive damage to its…
View original post 283 more words