https://www.westvalleyview.com/news/peta-billboard-memorializes-dead-hens/article_bbb5a352-a2c7-11eb-80c0-5b260db6ff85.html
By Christina Fuoco-Karasinski, West Valley View Executive Editor
14 hrs ago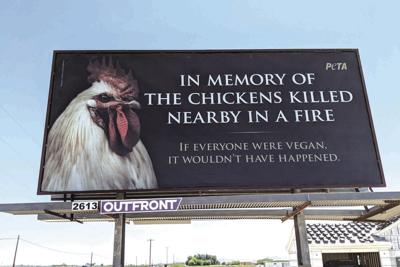 PETA erected a billboard near the main office of Hickman's Family Farms "in memory" of the more than 165,000 birds who were killed in March in a fire at a facility owned by the company.
The billboard, at MC 85 between South 223rd and South 221st avenues, urges anyone upset by the animals' suffering to take personal responsibility by no longer buying eggs and by going vegan.
"We're encouraging people who were feeling sympathetic to those birds to take a look at their own actions that are also making those birds suffer on a daily basis," said Amber Canavan, PETA senior campaigner spokesperson.
Canavan said PETA watches out for incidents in the news involving animals on farms.
"That goes for fires and transport trucks," Canavan explained. "Transport trucks have fairly high incidents of crashes on the way to slaughterhouses, from facility to facility.
"There are least 100 a year. Many are not even reported or make it into the news. Those animals are crammed onto transport trucks, shoulder to shoulder, in there for days without food, water or rest."
She said the public rarely thinks about animals locked behind closed doors, "out of sight, out of mind."
"We want to make sure that they don't just say, 'Oh, that's sad and go on about their day.' We have the power to help them in many cases by not buying meat, dairy and eggs in the first place."
PETA's statement said hens used for egg production are confined to cramped barns, where each bird has no more than a square foot of space. Few farms install smoke detectors or fire-suppression systems.
PETA notes that going vegan spares animals immense suffering and helps prevent future epidemics and pandemics. SARS, swine flu, bird flu and COVID-19 all stemmed from confining and killing animals for food.