http://www.newsminer.com/features/outdoors/as-crossbows-get-more-popular-alaska-requires-specialized-training-for/article_bf03ed98-3966-11e8-b6de-8365aa43c18c.html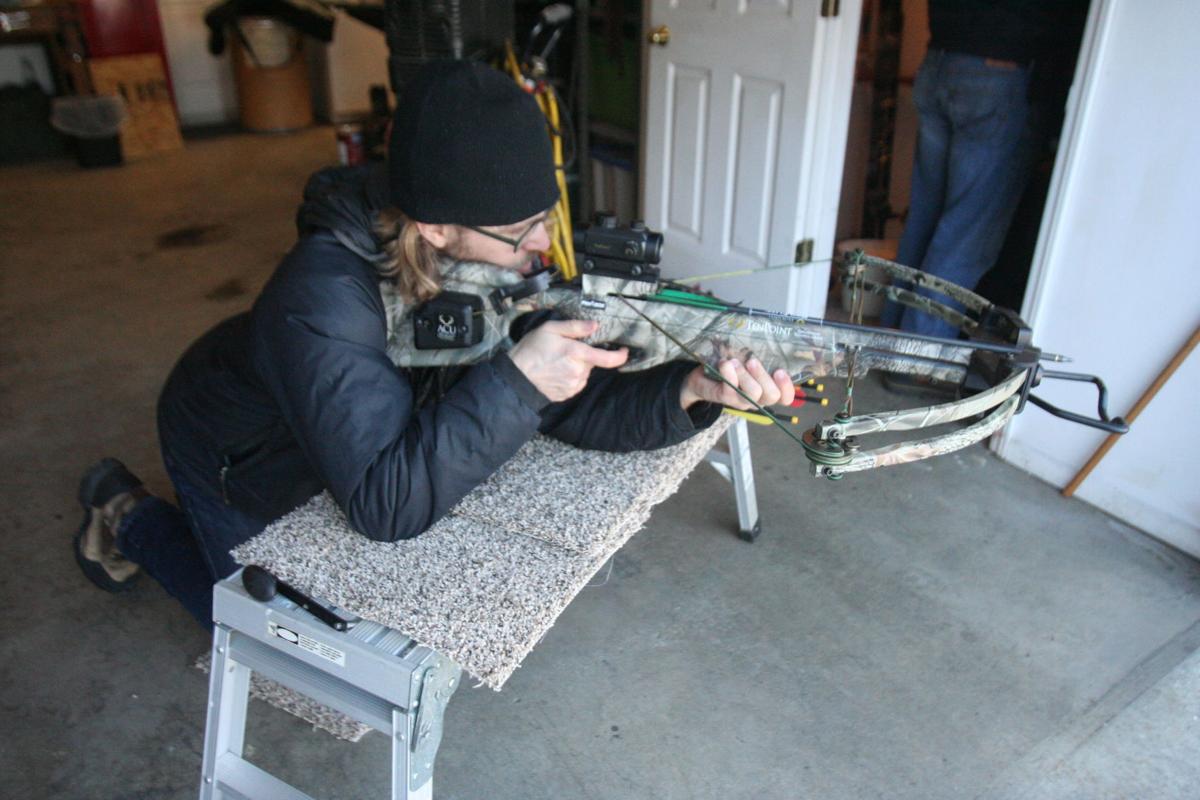 As used by hunters, a crossbow is somewhere between a gun and a bow. It has a learning curve more like a gun and a range more like archery equipment. Crossbows are still relatively novel weapons. More than moose hunts, they may bring to mind images of medieval re-enactors or Chewbacca from the "Star Wars" movies.
But they've become common enough that Alaska's Board of Game has asked the state to develop a training class for them. Starting July 1, crossbow hunters will be required to take a class and pass a field shooting exercise to hunt big game animals anywhere in the state.
To learn more about crossbows, I asked crossbow hunter and occasional Daily News-Miner contributor Jeff Bushke to show me the basics. Bushke has been crossbow hunting for more than a decade and set up a practice range against a snow berm in his front yard.
Bushke got interested in crossbows when he was working at the Fairbanks Sportsman's Warehouse store soon after it opened.
"That opened my eyes to a lot of things," he said. "When you work at a sporting goods store, you've got to play."
His crossbow, a TenPoint brand Pro Fusion model, is 10 years old and shoots at 300 feet per second.
"It's not that fast by today's standards," he said. "But it's killed four moose and four bears and has punched a lot of holes in targets."
Alaska doesn't allow crossbows in special "archery only" hunts except for hunters who have medical exemptions. Bushke has an exemption for a shoulder injury, so he can take his crossbow on archery hunts. But he sometimes takes it on general hunts where he could use a rifle. In particular, he likes taking the crossbow to his bear bait station.
"It's a great tool for killing bears," he said. "If you shoot a bear with it they think they've got stung by a bee. They don't think they're dead."
Many crossbows have mechanical aids to help cock them. Bushke's uses a detachable crank on the stock that turns easily to slowly bring the string back toward the trigger mechanism. After pulling back the string, Bushke loaded the crossbow with a bolt, the term for the short arrows used for crossbows.
Unlike a bow, you don't have to hold the tension in a crossbow while waiting to fire. After it's been cocked, the crossbow is ready to fire and just needs a trigger pull to release.
Bushke gave me the most important piece of advice when I got ready to fire: Be careful with hand placement on the crossbow foregrip. Grab it too high, and you've put your fingers into the path of the string.
"It's a mistake you would only make once," he told me.
Firing the crossbow otherwise feels much like shooting a rifle. I can see why it would be easier to learn to shoot accurately with a crossbow than an actual bow. My first shots all went high and to the right, but a fourth shot landed close to the middle of the target.
It's easy to be fooled by the weapon's accuracy at close range and assume it can kill a distant moose. Ginamaria Smith, who coordinates Alaska's hunter education program, said this is the biggest misconception she's run into with crossbows. That's a problem, because people who attempt distance shots with crossbows are likely to wound animals instead of killing them. 
The North American Crossbow Association trade group warns that popular videos of long range crossbow shots have fueled misconceptions about a crossbow's true range.
"The effective and ethical range for a crossbow is at 50 yards or less," the group states on its website. "While it is neat to see the 100-yard trick shots, they should never be attempted during any live hunting situation."
So far about 70 people in Alaska have signed up for crossbow education. The first field tests — on April 15 in Anchorage and on May 16 in Fairbanks — are filling up fast, Smith said.
In the field test, hunters will shoot twice at four 3-D targets at distances they're likely to encounter in the field. They'll need to make a kill shot on each target and a double kill on one target.