Campaign announces 'second amendment coalition', counting NRA leaders, conservationists, and lawmakers among its ranks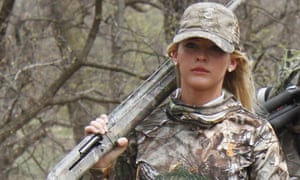 At the helm of the "second amendment coalition" are Donald Trump Jr, Trump's eldest son, and Chris Cox, the head of the National Rifle Association's lobbying arm, the NRA Institute for Legislative Action.
"My father defends the second amendment, so that you and I and your spouse and your children can take care of themselves when someone much stronger, much meaner and much more vicious than them tries to break into their home," Trump Jr said in the press release announcing the group.
"It's not just a hobby or something I do on the weekends. It's a lifestyle; and as my father often says: 'This is about self-defense, plain and simple.'"
Both Trump's sons are avid hunters, and their enthusiasm for weapons has been well documented since photographs surfaced of the brothers posing with dead animals after a big game hunt in Zimbabwe – a hunt that provoked criticism at home and abroad. Since the campaign began, Trump Jr has served as a liaison between the campaign and the gun industry.
More: https://www.theguardian.com/us-news/2016/nov/06/donald-trump-jr-gun-rights-coalition-chris-cox-theresa-vail?CMP=oth_b-aplnews_d-1