https://www.insidenova.com/headlines/fox-coyote-and-turkey-hunting-proposed-at-potomac-river-wildlife-refuges/article_57ff51ca-9eba-11eb-b5cd-abf68e4e6af6.html?fbclid=IwAR1NRtmWtZvK1X6CyooXBEb5M6aj__TrqEqzMKLwMd92flK4ucTLf-DGeq8
Apr 16, 2021 Updated Apr 16, 2021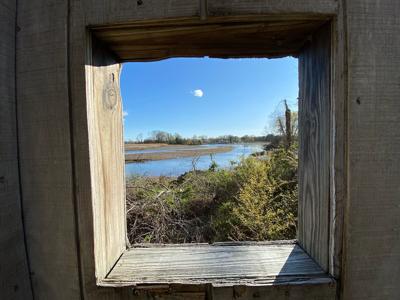 U.S. Fish and Wildlife is seeking public comment on new plans for fox, coyote, waterfowl and turkey hunting, along with expanded deer hunting and fishing opportunities, at the Potomac River National Wildlife Refuge Complex in Woodbridge and southern Fairfax.Trending on InsideNoVa https://c5x8i7c7.ssl.hwcdn.net/vplayer-parallel/20210408_1900/ima_html5/index.htmlhttps://c5x8i7c7.ssl.hwcdn.net/vplayer-parallel/20210408_1900/videojs/show.html?controls=1&loop=30&autoplay=0&tracker=a400ac00-21b7-4967-adeb-951c15739530&height=352&width=625&vurl=%2F%2Fd14c63magvk61v.cloudfront.net%2Fvideos%2Fdgv_insidenova%2F20210418054149_607bc4b07dee4%2Fdgv_insidenova_trending_articles_20210418054149_607bc4b07dee4_new.mp4&poster=%2F%2Fd14c63magvk61v.cloudfront.net%2Fvideos%2Fdgv_insidenova%2F20210418054149_607bc4b07dee4%2Fdgv_insidenova_trending_articles_20210418054149_607bc4b07dee4_new.jpgXPowered By
The complex includes the Elizabeth Hartwell Mason Neck, Occoquan Bay, and Featherstone National Wildlife Refuges. The USFW is inviting the public to review and comment on the draft plan for proposed hunts and fishing access.
The proposed plan includes:
Open fishing opportunities on non-motorized watercraft in designated areas of Occoquan Bay NWR, Mason Neck NWR and Featherstone NWR. Additionally, Featherstone NWR will also open fishing opportunities to motorized watercraft in designated areas.
Expanded deer hunting hours at Occoquan Bay NWR.
Open opportunities for mentored turkey hunting and mentored archery deer hunting on Occoquan Bay NWR.
Open fox and coyote hunting opportunities in conjunction with permitted deer hunt days at Occoquan Bay NWR.
Open waterfowl hunting opportunities in designated areas of Featherstone NWR.
A "hunt application/permit" (FWS Form 3-2439) will be required for hunting deer on E.H. Mason Neck NWR and Occoquan Bay NWR. No more than $10 application fee and $20 permit fee for deer and turkey hunts would be established to defray the costs of operation.
Deer hunt permit applications would most likely be administered by a contracted company that will feature online, mail, and telephone services to collect hunter information, required fees, and issue permits, the release said.
Draft documents for review are available here.
You can contact the refuge at 703-490-4979 to request more information. Submit your comments to the refuge by mail at 12638 Darby Brooke Court, Woodbridge, VA 22192 or by email at HuntFishRuleComments@fws.gov with the subject line of "Potomac River NWR Complex."
The comment period will be open through the end of the 2021-2022 federal hunting and sport fishing regulations open comment period to be announced in the Federal Register, USFW said in a news release. Federal officials expect the comment period to be open through mid-June.
"Across the country, national wildlife refuges work closely with state agencies, tribes, and private partners to expand recreational hunting and fishing access," the release said. "Hunting and fishing provide opportunities for communities, families, and individuals to enjoy the outdoors, support conservation efforts, and participate in a popular American tradition."