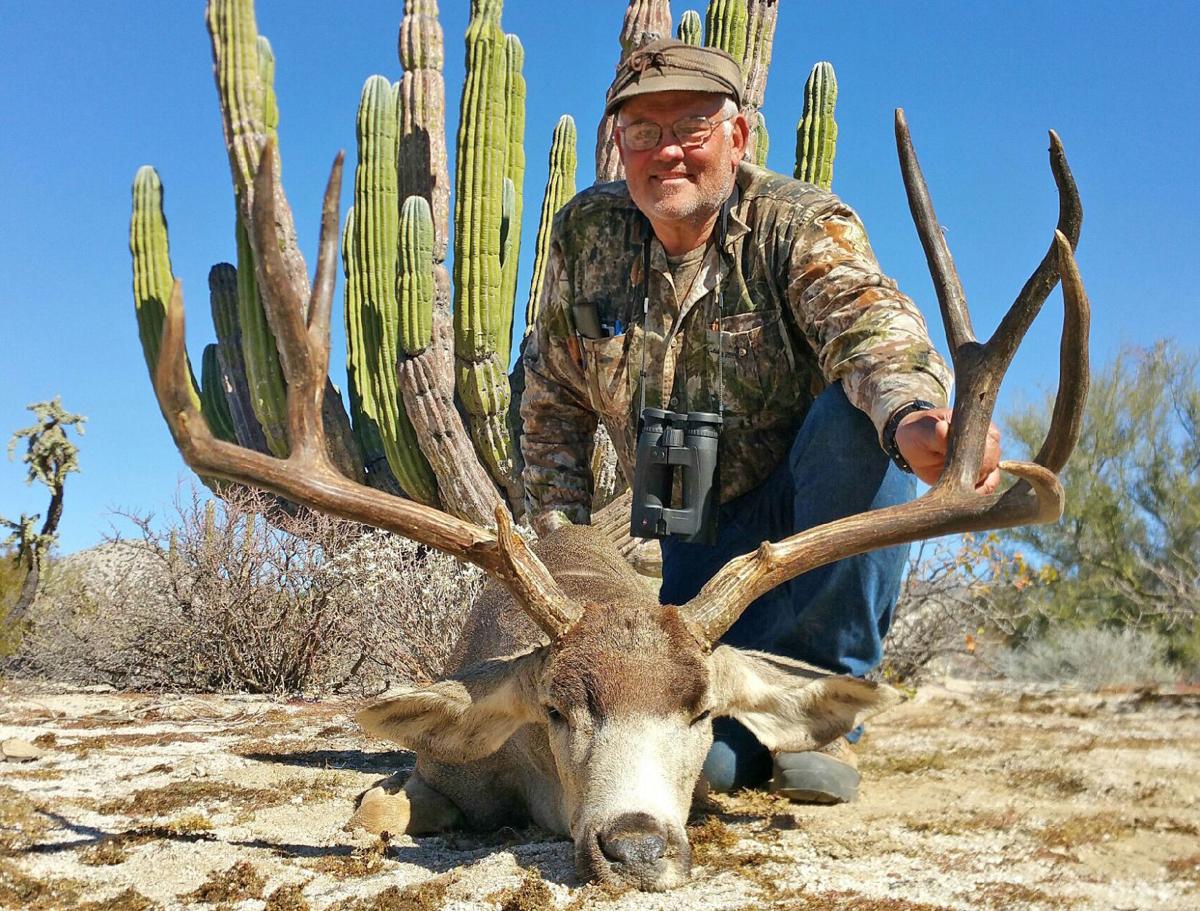 Five days short of his 70th birthday last year, Bill Butler shot the biggest mule deer of his long hunting life.
That's saying something for a guy who literally wrote the book on "The Versatile Trophy Hunter."
"I'm getting old, but I'm still poking around," he said.
His love for hunting started when he was just a boy. That was when he developed an "intense instinct and desire."
"I've slacked off a bit as I've gotten older, but I still like to get a good animal," he said.
As if to prove the fact, on Sept. 5 he shot the largest bull elk of his life, which green scored 352 gross and had a 54-inch main beam. He shot the 8×6 elk from a ground blind at 325 yards. He would have preferred to stalk the bull, but with so many other elk in the area, he had little choice.
Montana boy
Bill grew up in Silesia, Montana, hunting with his father, Jim Butler, as soon as he passed Hunter Education at age 12. A photo in his book shows him looking a little unhappy at that age. His father balances a rifle and his right foot on the bumper of a car while draping an arm around his son. An antelope's leg can be seen sticking out of the trunk. Bill wears a Davy Crockett shirt in the photo, a figure idolized by the youngster in 1958.
"I wanted to wear a coonskin cap, hunt bears, be a real woodsman, and wander throughout the wilderness when I grew up," Bill wrote in the photo caption.
"Growing up through high school, my brothers and I hunted as intensely as young wolves, taking many deer and antelope," Bill wrote. "Soon we were shooting the legal limit of two deer each. We had more than enough meat to eat at home and supplied several neighbors, also."
Outfitting
After high school Bill started guiding hunters, including difficult backpacking trips for bighorn sheep in remote and lofty portions of the Beartooth Mountains. Just hiking to the locations would be a 15- to 20-mile trip, he said. The outings paid off in five bighorn sheep for him, in addition to those he guided clients to.
"I carried 120 pounds for two days one time when I guided for a hunter," Bill said, packing out their camping gear and the hunter's sheep. "Now I don't have any cartilage between my discs in my lower back."
After 20 years of guiding in Montana, he hung up his license in 1986. He was 40 years old, had a pickup he still owed $6,000 on and no money in the bank. Yet he quickly transitioned to a new adventure, marrying Diana Wolff. Together they bought 86 acres in Wyoming and opened a guest ranch and started raising bucking bulls for the rodeo circuit.
Diana, 12 years his junior, said it's a family joke that a month after getting married Bill took off on his honeymoon — without her — to hunt in Alaska for four weeks.
"Hunting is in Bill's blood," she said. "I knew who he was when I married him."
Instead of children, they've raised a lot of livestock and dogs. That's now dwindled down to three horses, three longhorn steers and six dogs.
Hard knocks
Bill even rode bulls for a while, but over a lifetime of active living, the injuries have added up. He's torn the meniscus in both knees, has a 4-inch titanium rod and shoulder ball because he had dislocated it so much. He still carries around part of a .22 bullet in his shin after he dropped his Ruger Bearcat pistol which discharged and shot him. Then in 2013 he suffered a massive stroke.
"I was given the 'wonder drug' tPA (tissue plasminogen activator) which saved my life and left me with no ill effects of a stroke," he wrote in a text.
But Diana said the doctor warned her before prescribing the medicine that there was also a chance Bill could bleed to death when given the drug. Although he was paralyzed on his left side and couldn't talk in a way that Diana and the doctor could understand him, he agreed to risk trying the drug.
"That's no life, not for a guy like Bill," Diana said of the possibility that he might be permanently paralyzed. "Afterward, he got to thinking about it and said it was like riding a bucking bull. You nod your head and you might die before the ride is over."
While being treated for the stroke, his doctor told him there was evidence of a previous stroke and that he "could die any day of another one."
"I would say he's more reflective on his life now," Diana said. "He's probably paying a little bit more attention to the things he wants to do."
Back in the saddle
Such a blunt confrontation with his mortality prompted Bill to lose weight, take dietary supplements and begin a daily regimen of walking.
"I've been walking all my life," he said. And he competed in track when in high school.
It was Bill's youthful brush with track that prompted him to enter the Big Sky State Games. In the last four years he's won 29 medals, five gold medals in 2017 and in July set the pole vault record for his 70 to 74 age class — 4-feet-9 inches.
Bill and Diana both took instruction from Cody high school track coach Scott Shaffer in June to get tuned up for this year's event. The pole vaulters were the oldest he'd ever taught, yet they easily mixed with their teenage counterparts.
"When I first found out about it I was kind of expecting a little wiry guy," Shaffer said. "But then I saw him and thought, 'Oh my god, I hope it's not him cause he's a huge dude!'"
Bill is 6-foot-3 and weighs in at 241 pounds.
New goals
Just like his verve for hunting, Bill took to pole vaulting with the same determination.
"I'm fairly competitive too," Diana said. "If Bill wants to do something, he does it to the Nth degree."
"He wanted to do 50 jumps, I wanted him to do five," Shaffer said. "He wanted to come back the next day, I wanted him to wait a week."
But waiting or taking things easy just isn't in Bill's DNA, whether he's raising bulls or hunting, everything is full tilt and all in.
"He's not one of those guys sitting on the couch getting old and watching TV," Shaffer said. "He's going toe to toe with Father Time every day."
Diana agreed. Even though she was hesitant about letting Bill drive 750 miles to Mexico for last year's mule deer hunt, and also to drive north about the same distance to hunt whitetails, she said it wouldn't have been fair to ask him not to go.
"I was very worried, but I don't want him sitting here in the rocking chair and dying," she said. "I know he'd be a lot happier dying out in nature."
Bill doesn't envision himself kicking the bucket anytime soon. Instead, he's set his eyes on the prize of setting records in the Big Sky State Games track and field events when he's 90.
"The more intense you hunt the better you do," Bill said. "It's the same with anything."