http://trib.com/lifestyles/recreation/women-hunter-numbers-in-wyoming-increase-as-male-participate-drops/article_ef24ac27-75cf-5707-8f3e-7410dac35cbd.html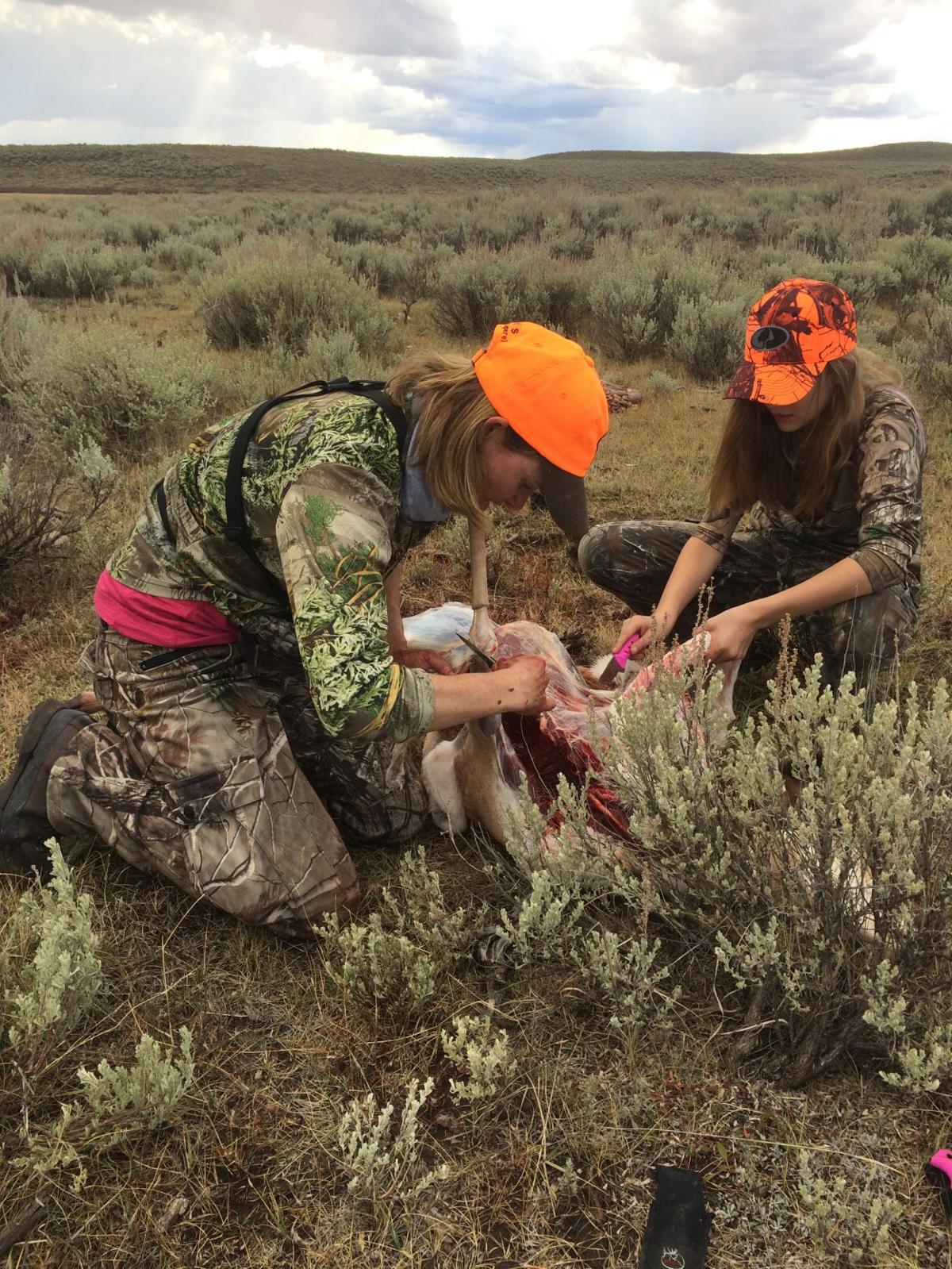 Lily Lonneker dropped her first pronghorn at 12 years old.
She rested in the grass next to her mom as they watched a a doe and a buck. And in one shot, Lily killed the doe.
"I felt really proud of myself. I didn't know I could do that since it was my first one," Lily said recently. "It is fun when you get an animal to know you're feeding your family, and you know the animal died in a humane way."
Now 14, Lily plans to chase a bull elk this year outside Jackson.
In a sport historically dominated by men, who pass their skills along to sons, stories like Lily's are becoming ever more common.
Between 2008 and 2016, female resident hunters went from 11,189 to 14,770. Male resident hunters during the same period dropped ever so slightly from 64,649 to 64,371, according to the Wyoming Game and Fish Department.
"Wyoming is one of the states where we're not losing resident hunters," said Kathryn Boswell, hunter and angler participation coordinator for the department. "Our numbers are going up, and it's because women are increasing, and they're making up the difference."
Boswell, who is also a founding member of the Wyoming Women's Antelope Hunt, doesn't have hard data explaining the increase in women hunters. But she has a few theories from what she's heard from other women.
"It's something they can do with their families. They want to put organic meat on the table," she said. "And there's a camaraderie that comes with it."
University of Wyoming student Lexi Daugherty agrees. She's been hunting with her father most of her life and shot a pronghorn in 2015 at the Women's Antelope Hunt.
The 18-year-old believes improving access to hunting will also help create more conservationists. She spent the last two years working with the Rocky Mountain Elk Foundation and Game and Fish to secure a 20-acre piece of ground near Jackson that opens access to almost 17,000 acres of public land.
"Now it will be there forever, for young girls like me to go hunting on it," she said. "And it's something that's really special to me."
Hunting also teaches her skills to stay safe in the woods and find food for herself.
Casper teen Krysten Cutler started hunting and fishing with her grandfather, Dale Leatham, who has taken her across Wyoming and the world to chase wildlife.
The two went on a safari to Africa in June with other family members. The 12-year-old shot four African animals including a zebra and impala.
"Why not encourage young ladies to go hunting and fishing?" Leatham said. "It's something you can do the rest of your life. And it doesn't cost that much. You can always go hunting and fishing."
For Krysten, hunting means more time with her grandpa.
"He teaches me, and I like doing it because it's something to get us outdoors," she said. "It bonds our relationship."
The meat from her African animals went to local villagers, though she was able to try each species. A deer she shot recently is at the processor.
"People say that men usually only hunt, but clearly that's not true," she said. "I was 12 when I shot my first antelope and I know a lot of other girls who shot their first antelope when they were 12, and it should start evolving."
Lily, the hunter from Jackson, isn't sure after this year how much more she'll hunt. She doesn't have the same passion for the sport as her mom does. But she also believes in it as a way for women to stay self-sufficient.
Her mom, Gloria Courser, knows that whatever path her daughter chooses, she will be able to take care of herself in the woods.
When Courser started dating her husband in 2006, she didn't have those skills.
"We were on a game trail and about 20 minutes in he looked back at me and said 'Where's the truck?'" she said. "I looked like the scarecrow on the Wizard of Oz. It was a truly teachable moment. I was out of my element."
The next time they went, she knew where the truck was. And this fall, she was a guide for the Women's Antelope Hunt.
Not every woman will have a passion for hunting, she said.
"It's like when I moved away from home, I learned to change my oil. I did it one time, and decided I wouldn't do it ever again if I didn't have to," she said. "But trying, learning to do it, learning how to use a firearm, understanding where meat comes from, is important."