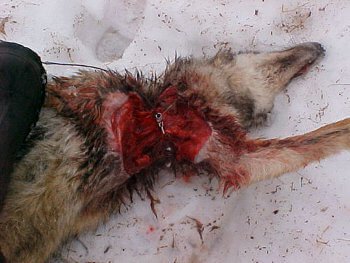 The city of Maumelle, Arkansas, has reportedly decided to trap and kill coyotes with the misguided intent to control species numbers. A contractor hired by the city has reportedly set 10 steel-jaw and snare traps throughout the city, and victims will be killed. But lethal initiatives are 100 percent ineffective, as survivors simply breed in order to replace lost pack members while more coyotes move in from outlying areas for the available resources. And amazingly, news sources indicate that city officials are touting these traps as "humane"! However, animals caught in these traps (including the padded or rubber-coated variety) sustain horrific injuries in their frantic attempts to escape—even chewing or twisting off their own limbs. Killing also tears wild families apart, leaving orphaned young to starve, and traps endanger companion animals as well as protected wildlife. PETA has apprised Maumelle officials of the cruelty and futility of this plan and provided details regarding humane coyote control, but now it's your turn.
Please contact the Maumelle mayor and city council and politely urge them to reverse this decision. Then forward this alert to everyone you know.
Take Action Now!
Fields with an asterisk(*) are required. 
First Name
Last Name
E-Mail Address
Become a PETA First Responder (optional and available only to mobile users in the United States)