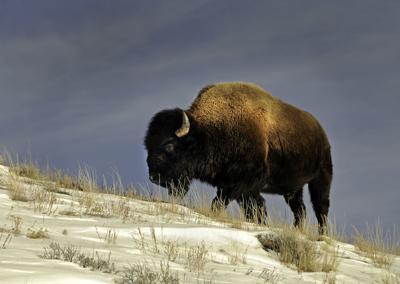 Yellowstone National Park trapped 23 bison early March 13, taking advantage of a large group that migrated north in search of food.
Yellowstone spokeswoman Linda Veress said in an email that the 23 were part of a group of about 500 bison that moved north of Mammoth Hot Springs. About 300 were spotted near the park's Stephens Creek Capture Facility, a set of corrals on the west side of the Yellowstone River near Gardiner, Mont., where bison are trapped.
The park ordered an area closure around the capture facility last week, a move that comes each year just before trapping begins.
Shipment to slaughter for the 23 bison will likely come this week, Veress said. Meat from slaughtered bison is distributed to Native American tribes. More complete numbers on bison removals will be posted to the Interagency Bison Management Plan website later this month, Veress said.
The capture of the bison comes as the window for trapping narrows. Park officials typically don't capture bison beyond March. This year's relatively late start could have consequences for managers' attempts to remove between 600 and 900 bison from the population between hunting and shipments to slaughter.
Biologists estimated there were about 4,500 bison in Yellowstone late last summer. The removals are meant to either slightly reduce the population or keep it stable.
Bison migrate out of the park each winter in search of food, which is when they become vulnerable to hunters from seven tribal nations and the state of Montana. The migration is completely dependent on weather forcing the bison out of the park's interior. Until this month, this winter was one of little bison movement, making things tough on hunters whose seasons ended early in the year.
The migration appeared to begin in the last two weeks. One group of animals crossed into the state last week, where they were met by gunfire. A total of 16 were killed, said Mark Deleray, regional supervisor for Montana Fish, Wildlife and Parks. Two died inside the park borders where hunters can't retrieve them.
Deleray said he is working to gather harvest data from the various Native American tribes who hunt bison on the outskirts of the park, but acknowledged that the numbers are likely low. None of FWP's 80 regular tags were filled. Deleray said he's still waiting to hear on the state's five backcountry tags.
Bison trapping began much earlier last year, with 96 captured over a few days in mid-February. By this time in 2018, the park had already sent more than 300 bison to slaughter.
Park officials are still holding 79 bison in two specialized pens at Stephens Creek for a brucellosis quarantine program. Quarantining bison is meant to provide live animals to enhance other wild herds or establish new ones, and officials and some bison advocates hope it will eventually prove a viable alternative to slaughter.